Rescuers ended the search for survivors under a collapsed trade hall in the city of Katowice, southern Poland as the nation began three days of mourning.
Battling biting cold at the weekend, rescuers pulled 66 bodies from the twisted metal of the collapsed building, and a 67th victim died of his injuries on Monday.
Of the 141 people injured in the disaster, around 70 are still in hospital, some in serious condition. A salvage team now faces the grim task of finding any remaining bodies in the rubble.
Recovery operation
"We are still looking for 15 people who are believed to have been at the scene of the disaster," Andrzej Gaska, a spokesman for the police in the southern Silesia region, told AFP.
"We are also trying to identify the owners of around 20 cars which were parked near the exhibition hall, and which nobody has
come to claim since the accident," he said.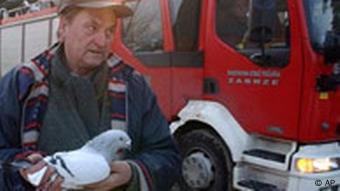 Pigeon breeder Marian Babiarz, survived the collapse
Tragedy struck this industrial town when the snow-laden roof of the exhibition hall, built in 2000, caved in Saturday while it was packed with some 200 visitors to Pigeon 2006, Europe's fourth-largest racing pigeon show.
The site of the tragedy lay eerily deserted Monday morning as salvage officials barred access to it.
"The sniffer dogs need total silence and calm to be able to work effectively," Gaska said.
Near door A3, where one wall of Katowice's exhibition hall was still partly standing, scores of candles flickered in the chill morning air and flowers had been laid in memory of the victims of the tragedy.
President to oversee probe
Three days of national mourning declared by President Lech Kaczynski began on Sunday, when the Polish president also vowed to personally oversee the probe into the tragedy, which some officials were blaming on heavy snow on the roof of the exhibition hall.
But Grzegorz Slyszyk, a spokesman for the company that managed the exhibition hall, insisted that the snow was not the cause of the disaster.
"That has been ruled out. All the documentation about snow removal has been handed over to the prosecutor's office in Katowice," Slyszyk said.
Among the dead were at least eight foreigners attending the racing pigeon enthusiasts' event -- a Belgian, two Germans, two Slovaks, two Czechs and a Dutchman -- Katowice fire chief Dariusz Kotulski said late on Sunday.