Europe's relentless deep freeze, with sub-zero temperatures as far south as Sicily, claimed several dozen more victims by Wednesday, and triggered record consumption of energy for heating homes, and even tents, against the icy weather.
Temperatures as low as minus 36 degrees Celsius (minus 33 degrees Fahrenheit) crippled power grids, and triggered emergency measures to help the homeless and conserve gas supplies from the Baltic states in the north to Italy and Greece in the south.
The Arctic weather conditions are expected to affect much of central Europe at least through Thursday.
Scores have died
The first two reported victims of the cold in Italy were found in northern towns Tuesday, while Moldovan authorities put their country's toll at 13 people over the past two days as temperatures dipped to lows not seen since 1907.
Even as temperatures warmed slightly in Russia, where scores of people have died since the cold snap began last week, neighboring Ukraine reported the loss of 26 more lives, bringing to 77, the number who have died since last week, the health ministry said.
Several more deaths were reported in Poland, where the toll stands at 39 since last Thursday. Six more fatalities were reported in Turkey, bringing the total for the week to 17.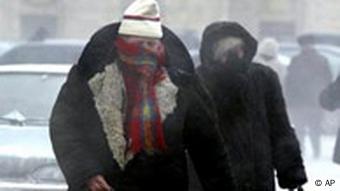 Russia and its former republics are hit particularly hard
Snow cut off some 10,000 villages in Turkey, where the Football Federation postponed all matches scheduled for this week because of the cold spell.
In Romania, a 55-year-old man died of hypothermia, at least the 22nd victim in recent days, while in Germany the toll climbed to five when a 63-year-old man succumbed to the cold in his unheated apartment in Senftenberg.
In the center of Prague, officials have erected a "tent city," an enclave of five heated army tents, to house the homeless still left on the streets as local shelters are full. The cold snap through Monday claimed five lives in the Czech Republic, including two homeless people found under Prague bridges, local media reported.
In the Baltic state of Estonia, three more deaths from cold were reported Tuesday morning, while in neighboring Latvia -- a country of only 2.3 million -- the toll climbed to 40 after six deaths overnight.
Pressure on energy resources
The near-record cold has put pressure on energy resources as eastern and central European countries reported record consumption of gas.
Ukraine ordered regional governments to cut gas usage by 15 percent, as the country has exceeded volumes foreseen in contracts with Russian energy giant Gazprom.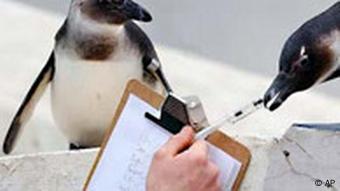 Even the penguins can't take the cold
Hundreds of residents in Bucharest were stranded without heat because of low gas pressure. The Romanian government called on Gazprom to "honor its contract" on gas deliveries after Bucharest reported a drop in gas supplies from Russia.
Left to their own devices
In Georgia, Energy Minister Nika Gelauri described conditions as "very difficult."
Georgia was struggling -- amid frigid weather -- to restore gas supplies disrupted by explosions Sunday on its main pipeline for Russia. The country only had enough gas supplies for parts of the capital Tbilisi. Media reports said in western areas of the impoverished Caucasus nation, Georgians were literally left out in the cold and to their own devices.
Many fell back on time-honored means of heating, the wood-burning stove.
"Russia can't take away from me my stove, my wood and my hazelnut shells," declared one self-reliant resident, Amiran Inachvili.
Tropical animals saved
Europe's cold wave has indeed been fit for neither man nor beast.
German zoos were forced to lock up inside tropical animals including zebras, flamingos and elephants.
"The elephants would get (swelling caused by cold) on their ears and the flamingos would start ice-skating on the frozen pond," said Wolf Everts, director of a zoo in Osnabrück.
And in an animal park in western Germany, zookeepers were afraid the zebras might slip on patches of ice in the "African savannah", a spokeswoman said.
But the lions continued to roam. Their den has a heated floor.
Meanwhile, in Dresden, even those used to sub-zero temperatures were taken inside: 21 Humboldt penguins at the city zoo were moved from outside into a building at 0 Celcius so their feet didn't freeze.