Bone-chilling weather claimed dozens of lives Monday across Europe as glacial temperatures swept the Baltics to the Balkans, brought rare snowfalls to Istanbul and sparked a scramble for heating fuel.
The unusually low temperatures, which are predicted to last until Wednesday but probably not extend into western Europe, has left well over 100 fatalities in Germany, Poland, Russia, Turkey and the Czech Republic.
"You'd have to go back at least 10 years, sometimes 20 years, to find such sharp colds," said Patrick Galois, a meteorologist with Meteo-France.
German deaths
In Germany four people froze to death after the mercury dropped in some regions to minus 24 degrees C (minus 11 F).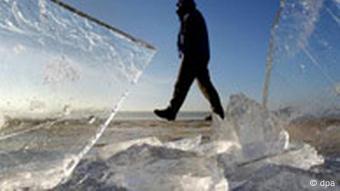 Ice in eastern Germany
A 74-year-old woman slipped outside her house in the eastern town of Wolfen on her way to her mailbox. She was unable to get up and died on her doorstep, police said. In nearby Salzwedel, joggers found the frozen body of a 48-year-old man in a field.
Weather forecasters said the temperature could fall to minus 30 C in the southern state of Bavaria Monday, while northern and eastern Germany would clock minus 20 C.
Twenty seven people have perished from exposure in Poland since Friday with overnight temperatures dipping to 32 Celsius (minus 26 Fahrenheit), bringing to 150 the number who have died this winter, police said Monday.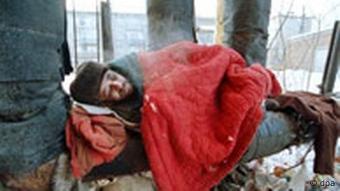 A homeless man clings to a heat pipeline
Nearly half of the dead were homeless, of whom 90 percent died while drunk.
The government said Russian gas deliveries were 34 percent below their contracted level Monday and Polish energy group PGNiG said Sunday it would reduce supplies to heavy industry to make up for increased demand from households and public institutions.
Enough natural gas?
Last week, Russian gas behemoth Gazprom acknowledged it could not satisfy the gas needs of western Europe because the extreme cold had caused Russian domestic demand to soar.
Bosnia, entirely dependent on Russia for is natural gas needs, reported that supplies were down 25 percent since last Wednesday, with a smaller decrease in supplies to Italy registered as well.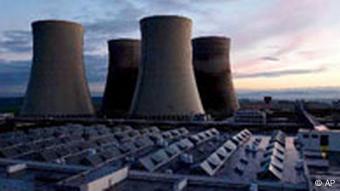 The Temelin nuclear power plant was shut down by the cold
In the Czech Republic, part of the Temelin nuclear power plant was disconnected from the grid for five hours after the cold affected a sensor, causing the system to reduce the power of the reactor, a spokesman said.
In Moscow eight people succumbed to the sub-zero temperatures over the weekend, bringing the death toll this winter to nearly 90. Another 31 people were hospitalized for hypothermia.
The freeze was particularly painful for the numerous street children sleeping rough in the Russian capital, where the temperature averaged minus 20 C (minus four F) over Saturday and Sunday.
Ukraine dealth toll climbing
Thirty people have died in Ukraine during the past 24 hours as a result of extreme cold, the health ministry said Monday, bringing to at least 51 the number of deaths since temperatures plunged last week.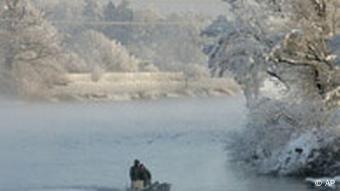 Undaunted by frigid temperatures two fishermen go about their job
At least 371 people have been hospitalized as a result of the cold, most of them suffering from frostbite and various stages of hypothermia, the Interfax news agency quoted ministry officials as saying.
Temperatures plummeted to minus 30.3 C, a near-record low, in the north of the Czech Republic Sunday night and claimed the lives of two homeless people in the capital, Prague.
The last time the country saw such cold weather was 66 years ago, in 1940, when the temperature dropped to a record 31.5 below zero, the meteorological office told the Czech News Agency.
Arctic cold has parts of Europe in its grip with the death toll climbing as the mercury drops.