Colonel Vicente Dalmau, a spokesman for the Strasbourg-based Eurocorps earlier on Tuesday told the French news agency AFP that the withdrawal of NATO member Poland, which has "associate nation" status in Eurocorps, is a "decision of the Polish government" and had been made "several months ago."
If true it would mean Warsaw's euroskeptic government had reversed an earlier pledge to become a full Eurocorps member this year, Dalmau said.
After the NATO-EU Joint Declaration signed in Warsaw in July 2016 - which stated, "a stronger NATO and a stronger EU are mutually reinforcing" - it seemed that Warsaw was onboard with the idea of developing an EU defense capability.
However, deputy defense minister Bartosz Kownacki denied the information, telling the commercial TVN24 news broadcaster on Turesday evening that it was "not based on facts."
"From what I know, there is no such subject at the moment," Kownacki said, although adding that the corps was not within his remit.
Government spokesman Rafal Bochenek also denied the information on Twitter, followed later by defense minister Antoni Macierewicz.
"It's not true that Poland is withdrawing from the Eurocorp. Let's stick with the facts," Bochenek tweeted.
Macierewicz meanwhile wrote: "It is not true that PL (Poland) is withdrawing from the Eurocorp."
Dalmau later clarified to AFP that the move concerned Warsaw's "associate nation" status, but a certain amount of confusion continues to reign.
A nascent EU defense force
Founded in 1992 as a tool for European defense, Eurocorps has five framework nations - Belgium, France, Germany, Luxembourg and Spain, while soldiers of Greece, Italy, Poland, Romania and Turkey joined Eurocorps with the status of "Associated Nation."
Poland has 120 soldiers in Eurocorps, which was set up at the initiative of France and Germany and became operational in 1995.
Of its 6,000 troops that can be put at the disposal of NATO or the EU, around 1,000 are based in Strasbourg, with the other 5,000 in the Franco-German Brigade, stationed mainly in Germany.
The force, which also has contingents from Belgium, Spain and Luxembourg, can raise more than 60,000 soldiers, who normally remain based in their respective countries.
It served in Bosnia, Kosovo, Afghanistan and Mali. It also currently supports an EU maritime operation against pirates off Somalia.
A defense core
The future of defense cooperation within the EU returned to the political agenda last year with the implementation of the European Global Strategy (EGS), which aims to reinforce Common Security and Defense Policy (CSDP). Some Member States have also proposed the establishment of a European "defense core."
Immediately after the Brexit referendum, Germany and France proposed strengthening defense cooperation in Europe. Their proposals were developed in September 2016 and then supported by Spain and Italy as a concept called a "European Security and Defense Union." European Commission President Jean-Claude Juncker has also spoken of the need to build a "European Army."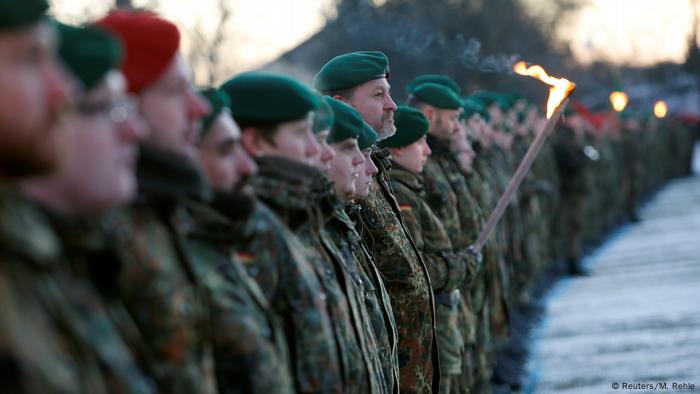 Soldiers of the German armed forces in a farewell ceremony for mechanized infantry to be deployed in Lithuania, January 19, 2017.
Germany and France outlined plans for closer EU defense cooperation in September 2016.
The Franco-German paper read, according to Le Figaro, that "in the context of a deteriorating security environment… it is high time to reinforce our solidarity and European defense capabilities in order to more effectively protect the citizens and borders of Europe."
The UK had in the past opposed steps toward the creation of an EU army or duplication of NATO structures. But the Franco-German paper says that "taking into account the United Kingdom's decision to leave the EU, we have to henceforth act as 27 [member states]".
It also called for a single EU budget for military research and for joint procurement of air-lift, satellite, cyber-defense assets and surveillance drones.
Goodbye Eurocorps, hello NATO?
Macierewicz also on Tuesday welcomed a multinational NATO battalion to Poland made up of troops from the US, Britain and Romania, saying the deployment improves the region's security given the "threat from the East."
The deployment fulfills a NATO pledge to enhance security on the alliance's eastern flank, amid fears over Moscow's annexation of Crimea in 2014 and its support for insurgents in eastern Ukraine.
The NATO commitment involves the deployment of four battalions of about 1,000 troops each to Poland, Latvia, Lithuania and Estonia, each led by a different NATO country. It is separate from a 3,500-strong US armored brigade that also deployed to Poland earlier this year.
jbh/bw (AFP, AP)