The EU is finally getting a military headquarters - in everything but name.
Approved by members of the European Council on Monday, the Military Planning and Conduct Capability is Brussels-speak for a setting where members can jointly plan and coordinate EU operations abroad, a first in the bloc's history.
Although the current plan applies only to missions focused on training local forces - operations that currently include Mali, Somaliaand the Central African Republic- the European Union has ambitions to create a framework for crisis response and stability operations overseas.
Several EU members, Germany among them, have long viewed a military headquarters as a practical and symbolic goal of that effort, but the idea remains controversial for others. Monday's decision marks progress after years of discussions, although the path ahead remains complicated.
Little progress
Even as the European Union crafted a single market and coordinated its foreign policy, it struggled to create a common security structure. The earliest attempt, a multinational Cold War force known as the European Defense Community, failed when France rejected the idea.
The 1992 Maastricht Treaty formally placed security and foreign affairs under a single pillar of the bloc. Yet military issues stumbled on questions of sovereignty, threat perception and preference for local defense industries.
Fears that closer EU coordination would distract from NATO led the US and UK to oppose such plans for years. East European nations have also been skeptical. US pressure only began to ease in the past decade, as the country became convinced that coordination could answer shrunken military budgets and atrophied capabilities across the European Union.
A new urgency
It was US President Donald Trump who helped motivate the latest efforts. Even before his election, his criticism of NATO signaled new uncertainty among Americans about their allies. The likelihood of US assistance for smaller EU-led missions abroad grew even more doubtful.
Such operations have relied in the past upon American "mission enablers" - military hardware and intelligence - to fill EU capability gaps.
Shortly after the Brexit referendum in June, Germany and France released a joint statement calling for a new focus on security. In mid-November, the European Union's top diplomat, Federica Mogherini, released a 13-point security plan that called for, among other things, a coordinated review of defense capabilities and priorities among members.
Two weeks later, the European Commission released its European Defence Action Plan, which would fund EU defense research at 25 million euros ($26.5 million) per year, with the sum potentially growing to 90 million euros by 2020. The plan would also create incentives for members to purchase needed military capabilities to share with other nations.
Supporters have explicitly said the goal was not to duplicate NATO, nor to create an EU army.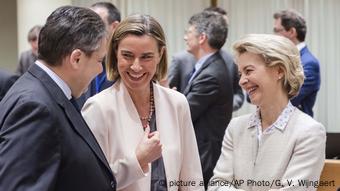 Von der Leyen (right), Mogherini and German Foreign Minister Sigmar Gabriel
"There are many challenges that do not, and probably will not in the near future, fall under NATO's mandate, which is a very specific one, and need to be tackled as a matter of urgency," Mogherini told a NATO forum in Brussels in November.
Headquarters in all but name
Monday's decision by EU foreign and defense ministers fulfills part of Mogherini's plan, creating a headquarters meant to ease the job of commanders in the field.
The Military Planning and Conduct Capability will be established within the EU Military Staff in Brussels and led by its director-general, Lieutenant General Esa Pulkinnen of Finland. The roughly three dozen staffers will assume operational planning, allowing officers on the ground to spend less time lobbying member nations for support and more time on their missions. The headquarters will also work closely with civilian counterparts at the Civilian Planning and Conduct Capability, also in Brussels.
"Today we've taken a very important step in the direction of European security and defense," German Defense Minister Ursula von der Leyen told reporters after the meeting.
Von der Leyen called the new structure a "command center." Yet official documents avoided the word "headquarters," and Pulkinnen's new position was referred to as a "director" instead of "commander" - niceties likely meant to appease hesitant members, including the United Kingdom, which has decided not to block EU defense plans as it moves to leave the bloc.
Challenges remain
Progress will mean a deeper coordination that goes beyond language and includes aligning military planning, as well as identifying joint projects for investment or research and development.
To that end, the European Council is exploring the idea of implementing a concept known as Permanent Structured Cooperation, which would allow the most eager nations, such as Germany and France, to work together on developing projects that would benefit the bloc as a whole.
The political window for progress is narrowing, however, as elections approach in many EU member states and Brexit negotiations begin this spring. At a time of tight budgets and widespread populist anger, will political leaders want to tackle difficult questions over sovereignty as it relates to defense?
If EU defense efforts end up stalling, it would be another black eye for the bloc, Daniel Keohane, a researcher with the Center for Security Studies in Zurich, told DW on the sidelines of the Munich Security Conference in February.
"I'm worried that lots of things will be said but no follow-up, and it will just damage credibility," Keohane said. "Which is exactly what the EU does not need."