Everyone knows the controversial 1991 Vanity Fair cover showing a very pregnant Demi Moore. Annie Leibowitz's inspiration was a picture by Will McBride. His portrait of his pregnant wife Barbara was published in the German magazine Twen in 1960. Though modest by today's standards, his photo was considered obscene at the time.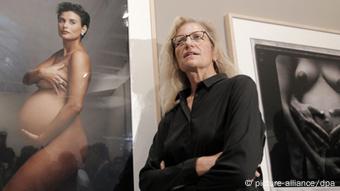 US photographer Annie Leibovitz in front of portrait of pregnant Demi Moore. The idea was inspired by Will McBride
In Chicago, McBride studied graphic design and painting before serving in the army. After his military discharge, he stayed in Germany and landed in Berlin, a city destroyed by the war and divided into four sectors by the Allies.
He started documenting everyday life amidst the ruins of war - lonely people, wounded veterans, women clearing away rubble while their children ran around in lederhosen. Some scenes were heartbreakingly memorable, such as West Berliners holding their babies up in the air, trying to show them to their relatives in the East who couldn't come to the baptism.
Will McBride's photos were the first to be featured at the Amerika Haus cultural exchange institute in Berlin when it opened in 1957. The C/O Berlin gallery had an exhibition of his post-war works in the autumn of 2014. McBride, as he once declared, "fell in love" with Berlin and its people. The city became his home. Beyond photographing the ruins, he was a keen observer of human behavior. A Sunday drive in a Beetle to Lake Wannsee with girls in petticoats or teenage parties on riverboats: these scenes captured by McBride showed the leisure side of Berlin and could just as well have been taken in the midwestern United States.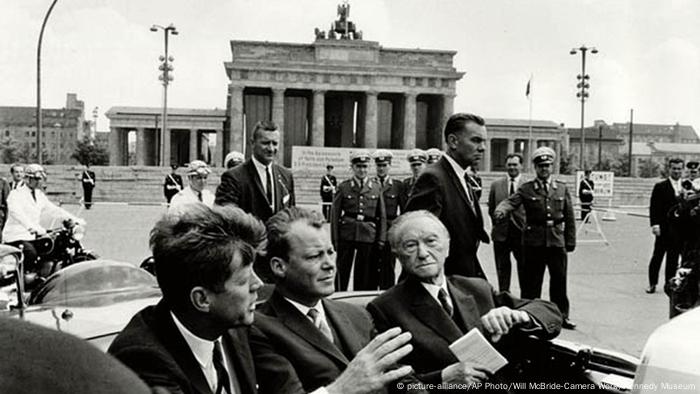 US President Kennedy, Berlin Mayor Willy Brandt and German Chancellor Konrad Adenauer in front of the Brandenburg Gate, as photographed by Will McBride in 1963
McBride worked for major magazines like Life, Paris Match and Stern. When Kennedy, Brandt and Adenauer pulled up at the Brandenburg Gate in an open-top car in 1963, Will McBride captured the moment as a photo reporter. Towards the end of his life, he mainly worked as a painter and sculptor.