Thousands of people were being evacuated south of the Philippine capital, Manila, on Sunday as Taal Volcano began to send clouds of ash and stone into the sky.
The country's seismological authority raised the alert level to 4 out of 5, suggesting that a "hazardous explosive eruption is possible within hours to days." Several tremors have already been felt in the vicinity of the volcano.
Around 8,000 residents were ordered to evacuate, with 6,000 out of the danger zone on Sunday evening. Ash covered much of the surrounding area, and reportedly reached as far as the province of Cavite, directly south of Manila.
The ash plume reached a height of 10 to 15 kilometers (6 to 9 miles) into the atmosphere on Sunday evening. Aviation officials ordered a suspension of all flights in and out of Manila's international airport. Fallen ash also covered the runways.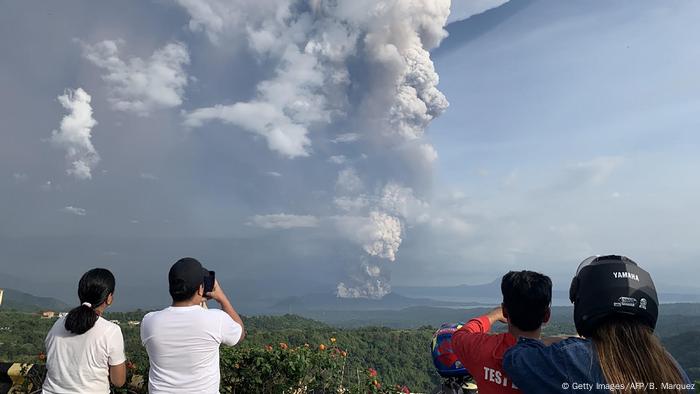 Spectators view the plume of ash of the Taal Volcano
"Do whatever is necessary in the interest of public safety," Transport Secretary Arthur Tugade told aviation officials.
Regional government officials have canceled school classes for Monday and warned residents to stay indoors.
The Philippines Institute of Volcanology and Seismology warned citizens and tourists to be alert to the possibility of a volcanic tsunami and volcanic matter that could hit areas around Taal Lake. The area is considered a popular weekend getaway from the capital.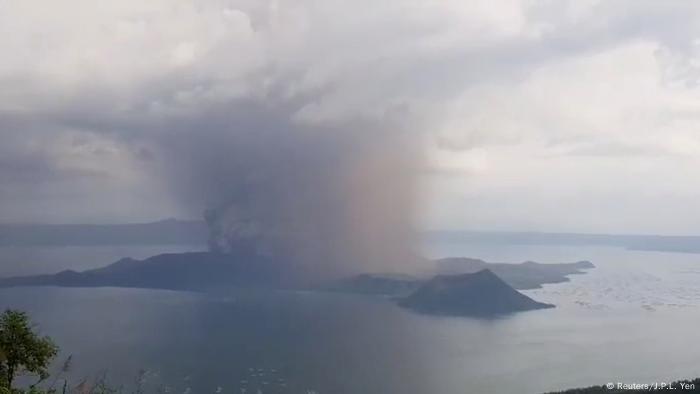 Taal Volcano's eruption has forced thousands to evacuate
What threat does the volcano pose?
Located about 65 kilometers (40 miles) away from Manila, Taal is one of the country's most active volcanoes, although it has not had a major eruption since 1977. A catastrophic eruption in 1911 claimed 1,335 lives.
"Taal is a very small volcano, but a dangerous volcano," Renato Solidum, head of The Philippine Institute of Volcanology and Seismology (Phivolcs), told Reuters news agency. "It is unique because it is a volcano within a volcano."
Taal also lies in the middle of a lake, increasing the risk of a tsunami should an eruption happen.
The volcano is one of around two dozen active volcanoes in the Philippines, which is one of the world's most disaster-prone countries. A typhoon over Christmas caused widespread damage and several deaths.
ls,es/stb (AP, AFP, Reuters)
Every evening, DW sends out a selection of the day's news and features. Sign up here.