Destination: Unknown. All that the hero of Handke's novel knows is that he wants to go somewhere else. The palpable separation from Judith, his former girlfriend, has thrown off his manly navigation system. Their trip to America together has come to a sudden end.
Without a destination, and light on luggage and perspective, the already successful playwright and aspiring novel writer travels alone across the US.
"During the ride through New England I had time for...for what? I thought, I soon got sick of looking out because the color of the Greyhound bus windows gave the landscape a somber look. From time to time we stopped at a toll station and the driver handed a few coins out of the window to a tolltaker. When I opened the window to get a better view, someone told me an open window upset the air-conditioning system and I closed it again."
Literary self-discovery
The young Austrian from the countryside is shocked by consumption-driven America. Taking refuge in the nocturnal silence of worn-out motel rooms, his thoughts revolve around his latent neurotic self-reflection — just like the fan spins around as it hangs from the stained ceiling, which has not seen a fresh coat of paint in some time.
"I put the book down and lay in the dark. The air-conditioning purred softly, and I watched myself falling asleep...The next morning, shortly before noon, I went to Pennsylvania Station and took a Penn Central Railway train to Philadelphia."
At the epicenter of Handke's novel is the finely-detailed emotional world of the first-person narrator — speaking in the fundamental tone found in the early-1970s "Neue Empfindsamkeit" literary movement. In painstaking notes, the narrator details the banal activities of everyday life.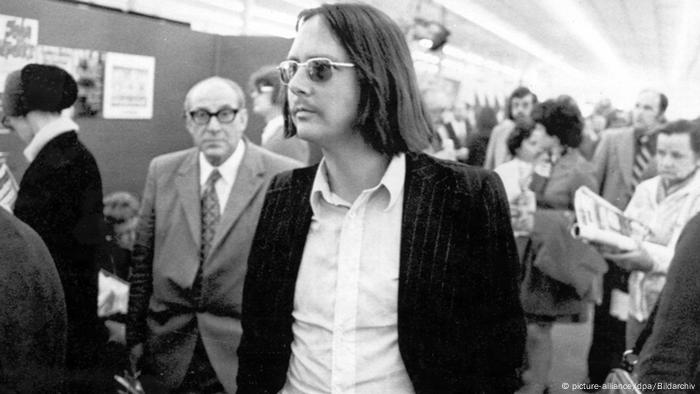 Peter Handke at the Frankfurt Book Fair in 1973
Longing for "Good Old Europe"
Short Letter, Long Farewell accompanies the modern hero of the novel on this arduous journey to himself; he has not yet found his niche. In a surge of unbearable homesickness, he makes an expensive collect call overseas, but this lifeline, thrown to save him from the endless longing, does not help him to relax.
"I waited a few minutes, dialed zero, and said I wished to make a call to Europe. The hotel operator connected me with the overseas operator, and I gave him my mother's phone number in Austria. Was it a person-to-person call or would I speak to anyone who answered? The latter, the operator informed me, would cost much less."
A spontaneous desire to visit his former American lover, Claire, in the Midwest helps him break through the desolation of aimless traveling. This concrete thing is what ultimately calms him down and gives him literal direction.
"I settled the price with the cab driver and started after breakfast. One the way we made one stop: I bought a harmonica for the child and some film packs for the Polaroid camera in a discount store, where they only cost half as much as at the airport. A present for Claire would only embarrassed her."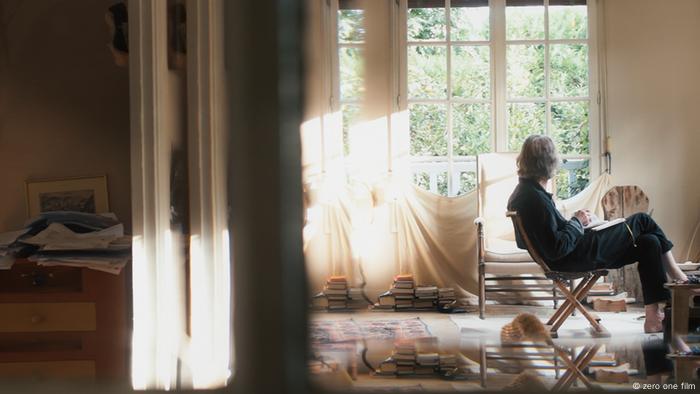 Handke was the feature of a 2016 documentary by Corinna Beltz
Ominous family entanglements
Behind all the stories told by the first-person narrator lie quite different, more existential problems. Gradually they come to light, inevitably forcing their way into his consciousness: The search for the narrator's long-lost brother, who has left their hometown village without a word to his parents or family and emigrated to America. The crisis of his writing which makes everything written thus far seem irrelevant. Much of the work appears to be colored by autobiographical experience, something Handke quite often incorporates into his books.
Peter Handke's entry into the global literary scene as a writer was furioso: His first manuscript, The Hornets (1965), still written as a law student, was immediately accepted by the renowned Suhrkamp Verlag.
In 1966, the premiere of his play Offending the Audience made him known as a playwright. Encouraged by the provocative success, Handke (who was born in 1942) accused the legendary "Gruppe 47" of "descriptive impotence" in the same year. A scandal.
The rather media-shy young author added to his list of works his famous novel The Goalie's Anxiety at the Penalty Kick (German edition: 1970). Together with Wim Wenders, who has been one of his closest friends since school, Handke then began shooting films in Munich (3 LPs) and tried out different genres.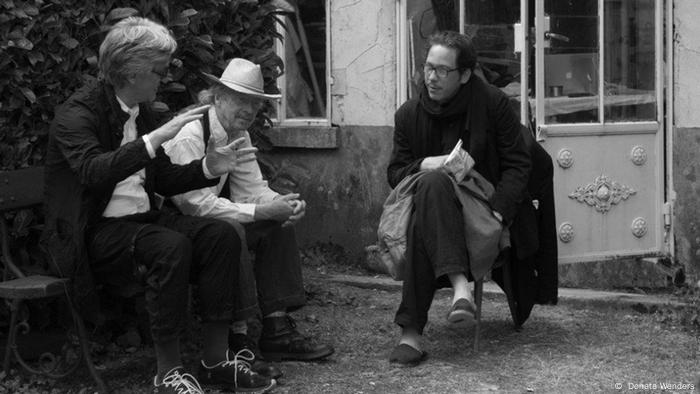 With Wim Wenders on the set of The Beautiful Days of Aranjuez
Literature as a road movie
The US felt like an almost mythical place for both of these artists; the vastness of America seemed like the promised land, where one absolutely had to travel. The literary figures from Handke's books later appear in films by Wenders. Road movies lost in endless camera shots in the landscape of America.
In 1971, a family drama threw the young writer off track: his mother killed herself and in so doing, defied his violent stepfather, who had also abused Handke. The life crisis that followed is addressed by Handke in his 1972 book A Sorrow Beyond Dreams: A Life Story.
It was during this time that his autobiographically-inspired travel narration, Short Letter, Long Farewell, was released. For the first-person narrator, the search for what counts in life remains. Yet an encounter with the aging Hollywood director John Ford, for example, whom he has long deeply revered, might have helped answer that question.
It was during this time that his autobiographically-inspired travel narration, Short Letter, Long Farewell, came into being.
For the first-person narrator, the search for what counts in life comes into literary focus: This includes an encounter with aging Hollywood director John Ford, whom Hanke had long revered and whom he visited in California.
Peter Handke, Short Letter, Long Farewell, New York Review Books Classics (German title: Der kurze Brief zum langen Abschied, 1972). English translation: Ralph Manheim.
Austrian Peter Handke, who was born in 1942, is one of the most successful German-language authors of the post-war generation. His journalistic essays, in which he also took sides with the Serbs during the Bosnian War, provoked heated debates and are still controversial today. In addition to novels and prose, Handke has written poems and screenplays. Together with his friend Wim Wenders, he has realized numerous film projects, including Der Himmel über Berlin/Wings of Berlin, Die schönen Tage von Aranjuez/The Beautiful Days of Aranjuez. The writer lives near Paris.