Controversial performance artist Pyotr Pavlensky has fled Russia and says he is seeking political asylum in France after being questioned by authorities on allegations of committing a sex crime.
Pavlensky made headlines in recent years due to protests he has staged as performance art, including sewing his lips shut in support of the then-jailed members of the band "Pussy Riot," setting the wooden door of the Federal Security Service (FSB), one of the successor organizations to the Soviet-era KGB, alight and nailing his scrotum to the pavement in Moscow's Red Square. His actions are intended to draw attention to his opposition to laws that he has deemed oppressive.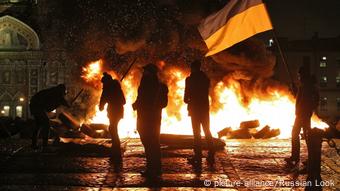 Pavlensky's 'Freedom' was dedicated to Euromaidan activists in Kyiv
Pavlensky fled with his partner Oksana Shalygina and their two young children in December after they were detained upon returning to Moscow's Sheremetyevo airport.
They were questioned by state investigators for several hours and later learned this was in relation to allegations that a sex crime had been committed against an actress.
While they do not know if a criminal case has been officially opened against them, the couple felt it was too risky to remain in Russia and fled to Ukraine in mid-December.
First interview since fleeing
In his first interview since leaving Russia, Pavlensky said Monday that he believes he was entrapped, likening it to the denunciations that led to mass imprisonment in the repressive Soviet era.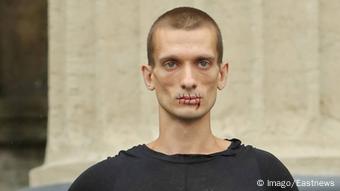 Pavlensky sewed his lips shut in 2012 in support of the band 'Pussy Riot'
"Either [they could send us] to a prison camp for the next 10 years, where we'd describe how we had become victims of state security scheming, or [they could send us] beyond the border limits of passport control," he said, adding that the Russia of President Vladimir Putin had become increasingly authoritarian and intolerant of dissenting voices.
"I wouldn't say I was a threat, more a big inconvenience, because lots of money and resources are spent on propaganda ... then I carry out some action and it's a strike on the propaganda machine," he said.
While Russia's Interior Ministry and its Investigative Committee did not reply to requests for comment from Reuters on Monday, several friends of the actress who has made the allegations have voiced support for her.
ct/cmk (dpa, Reuters)