The move comes in the same week the US Army formally welcomed its new secretary, Eric Fanning (above), the first openly gay leader of a military service branch in US history.
The Pentagon's existing policy considers transgender people to be sexual deviants, allowing the military to discharge them.
The specifics of the repeal are still under review, but reports suggest an announcement will come by the end of next month or possibly sooner.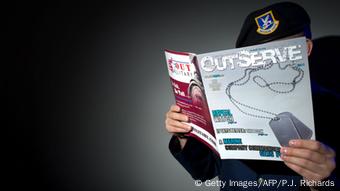 The US military ended its ban on gays in 2011
"Nothing has been set in stone on this," one official told the "USA Today" newspaper.
In May, the Pentagon's new acting personnel chief, Peter Levine, said that it would likely take "months, but not large numbers of months" to finalize details.
A US official said some elements of the repeal would come into effect straight away, although the plan will also direct each branch of the armed services toward implementing new policies from recruiting to housing for transgender troops.
Not all happy
Not all policymakers were happy with the move. Republican Representative Mac Thornberry, chairman of the House of Representatives Armed Services Committee, suggested that Defense Secretary Ash Carter had not answered the panel's questions, including questions about "readiness challenges" for transgender service members.
"If reports are correct, I believe Secretary Carter has put the political agenda of a departing administration ahead of the military's readiness crisis," Thornberry said in a statement.
"Our transgender service members and their families are breathing a huge sigh of relief," Ashley Broadway-Mack, president of the American Military Partner Association, said in a statement.
The National Center for Transgender Equality estimated last year that 15,000 trans people served in the US military.
jbh/bk (Reuters)