Eighty-five-year-old Paul Biya won at the polls on October 7 with more than 71 percent of the vote, according to official results. But the elections were marred by accusations of rigging. Only 53 percent of the country's 6.6 million cast their ballots, a result, also, of ongoing unrest in the Anglophone regions battling for secession.
Over the weekend scores of people protesting the election were arrested in Cameroon, over claims that victory was stolen from opposition candidate Maurice Kamto. The leader of the Cameroon Renaissance Movement party demanded a vote recount and called for the intervention of the international community. All of which is unlikely to impress the president.
Self-proclaimed guarantor of peace
On the African continent there is only one head of state who has ruled longer – Teodoro Obiang of Equatorial Guinea. Cameroon's Paul Biya has now been in power for almost 36 years. But that doesn't mean that he is in touch with all Cameroonians. "Biya is blind to the situation in Cameroon, because uncontrolled power makes one blind to reality," says Jean-Pierre Bekolo, a Cameroonian film maker who lives in exile in the US.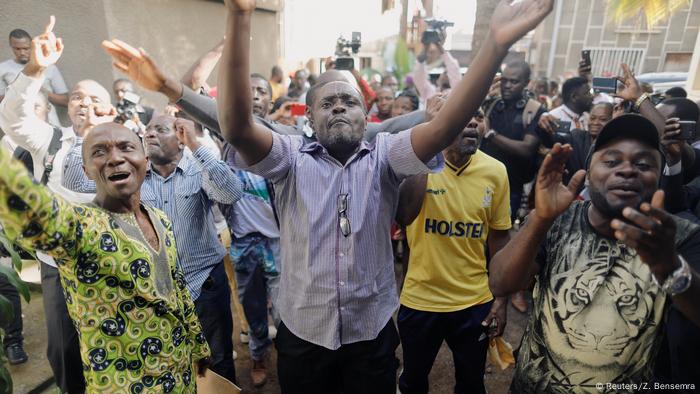 The opposition is demanding a vote recount amid accusations of election rigging
Many observers believe that Biya actually sees himself as irreplaceable. According to a recent statement by Biya in his stronghold Maroua, he views himself as the only guarantor of peace, stability and a united country.
The crisis in Cameroon's western regions shows just how contentious the situation is. In the Southwest and Northwest mainly English-speaking regions, separatists are calling for a country of their own. Cameroon's Anglophone minority makes up about one fifth of the population, while French is spoken in the other regions.
Missing on the campaign trail
Biya's end of September appearance in Maroua was one of the rare public appearances of the Cameroonian president. During the elections, seven people challenged his presidency. "I'm certain, that Cameroonians will make the right decision on October 7," he said at the time. "Then they will have the power of experience on their side," he added. On the issue of the separatists he told his supporters: "We're telling our fellow Cameroonians in these regions that we will protect them from their self-proclaimed liberators."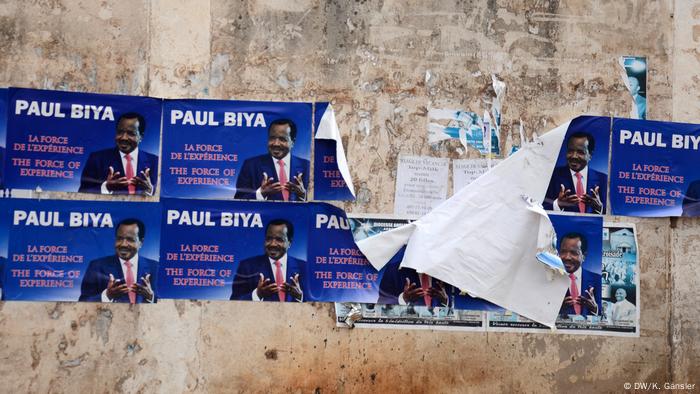 Paul Biya rarely appears in public nowadays and the election campaign was no exception
In recent years Biya has largely taken a step back from everyday political wrangling and debate. He rarely engages with parliament and other political institutions and instead rules by decree. He decides on ministerial posts and fills the top posts in national companies with people who are loyal to him. Biya has also refrained from calling in party conferences during which his party would vote on his leadership.
Absent but represented
Biya left most of his campaign work to his aides and his minister for education. "Absent but represented" is how the opposition and commentators describe Biya's style.
The president himself spends time abroad, on vacation in Switzerland, for instance, where he resides in a five star hotel in Geneva. According to the Organized Crime and Corruption Reporting Project (OCCRP) research center, his hotel bill amounted to €156 million ($179 million). He is known to have taken his wife, as well as, 50 employees on his trips. The OCCRP says Biya has spent at least four and a half years of his 36-year presidency on private trips.
"The luxury which Paul Biya and the elite around him indulge in, stand in strong contract to the poverty in the country," says filmmaker Bekolo. In the past year, income in Cameroon has dropped sharply, partly due to the fall in oil and other raw material prices. According to the World Bank, the country's current GDP stands at €1,570 ($1,800).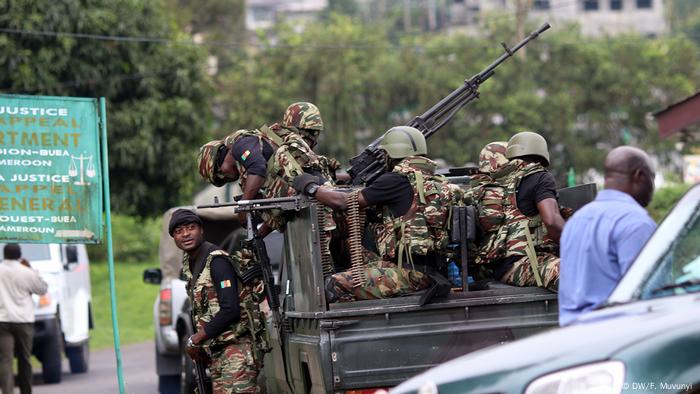 Unrest persists in the secessionist Anglophone regions with no solution in sight
Biya: From reformist to conservative?
Paul Biya comes from a modest home. After completing seminary school in Yaounde in the 1940s, he went to Paris to study at various colleges. In 1962, Cameroon's president Ahmadou Ahidjo urged him to come back to Cameroon and appointed him as a minister. In 1975, Biya became prime-minister and in November, 1982 Ahidjo resigned and Biya took office as head of state.
"When he started he had plans for major reforms," argues Herve Emmanuel Nkom, a member of the ruling People's Democratic Movement (RDPC) party, which Biya founded in 1985. Biya modernized Cameroon's political system, says Nkom. "He introduced several democratic reforms like the multi-party system. He introduced democratic freedoms, as well as, social and economic developments in a difficult international environment."
Achille Mbembe, a Cameroonian philosopher views Biya's development differently. "Biya failed on all levels. Cameroon has lost 36 good years with this man at the helm," he said in a DW interview. As Biya enters another term, Mbembe expects very little from his next seven years.