In the fight over digitizing books, the Internet search engine operator Google can chalk up another victory -- this time in Germany.
A German publisher, WBG, dropped their case asking for a preliminary injunction against the Google Books Library Project in the Regional Court of Hamburg Wednesday after the judge told them they were unlikely to get it.
The court ruled that there was no copyright violation stemming from the project.
Digitizing 15 million books
WBG started their action against the American company's "book search engine" which began in 2004. It was the first time a German publisher had brought a case against Google, although the action was backed by the German Publishers Association. In the case, WBG wanted to stop Google from scanning into its search engine any work published in Germany and displaying snippets on its search pages.
The world's largest Internet search engine had announced that it wants to digitize about 15 million volumes from American and British libraries including those at Harvard and Stanford Universities.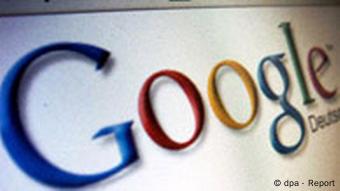 Google says its book snippets do not violate copyright laws
It would work this way: Google lets users type in a search term then scans its digitized library for the word or expression and produces a list of books where the term is mentioned. Users can then click on the results and a few pages of the text appear allowing users to read up online. The idea is to supplement Internet users with another source of material.
The publisher, through their legal action, wanted to stop Google from scanning in copyrighted books without permission. And the German publishers rejected the so-called opt-out option which allows them to request that certain books not be included by notifying Google, saying it was non-binding on Google.
Opposition in the US
Google is also coming up against opposition to its project in the US where writers and publishers have filed lawsuits to force Google to get their permission before scanning in books. So far, the Association of American Publishers and the Authors Guild have filed suit. The German court decision has no influence on American lawsuits.
Electronic books are coming in the near future
At issue is the right of authors and their publishers to their own work versus the "fair use" of their work by the public. Google argues that their search engine will only offer users a "card catalog" function, with a few pages of text. No one will be able to read the entire book online.
After the court decision, Google reaffirmed its commitment to the project.
"Google is passionate about the digitization of books, which we believe benefits everyone by making the world's knowledge more accessible," wrote David Drummond, senior vice president and general counsel in a company blog.