At the UN General Assembly in New York City, 31 more nations turned in official documents confirming their ratification of the Paris Agreement, agreed December 2015 to try and limit global warming to a maximum of 2 degrees Celsius (3.6 degrees Fahrenheit).
Earlier this month, the United States and China formally joined the agreement, with Brazil following shortly thereafter. During the present round of ratification, several small island nations have joined up, along with Mexico and Argentina.
A total of 60 parties representing nearly 48 percent of global emissions have now turned in their instruments of ratification for the agreement. In order for the treaty to come into force, 55 countries covering 55 percent of global emissions have to ratify.
"I am happy to announce we have crossed one of the thresholds to bring the Paris Agreement into force," UN Secretary-General Ban Ki-moon announced at the event, which was also live cast.
"Now, let us work harder to get the 7.5 percent more emissions" necessary to cross the second threshold, he added.
Ban, along with others, hailed the leadership of ratifying countries. "Thank you, warriors for the planet," said US Secretary of State John Kerry, who was also at the event.
Getting hot in here
The mass ratification event comes as the National Oceanic and Atmospheric Administration (NOAA) released data showing that August 2016 shattered global temperature records - the 16th consecutive month to do so, marking the first time in 137 years of recording global temperatures that this has occurred.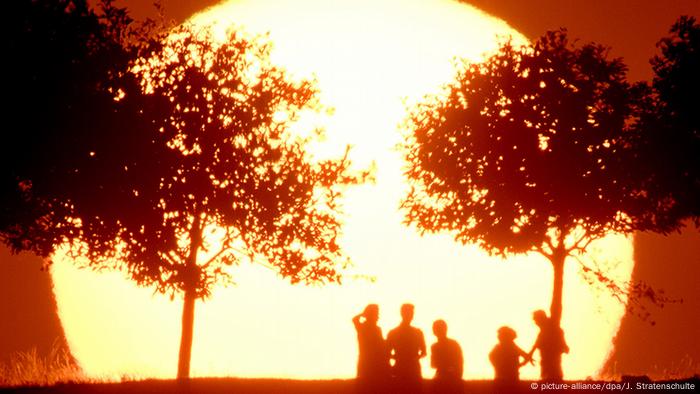 August was the hottest on record, breaking a new record for global warming
"These high temperatures are already having consequences," Kerry said.
"The next step - bringing that agreement quickly into force - must follow," he added.
Numerous other nations have committed to depositing their instruments of ratification for the Paris Agreement by the end of 2016, including Austria and Australia.
"Germany will finalize the ratification process in the coming days, and will deposit its ratification instruments well in advance of the Marrakesh conference," Chancellor Angela Merkel said in a video message that was played along with many others at the UN event.
Ban has spearheaded a push to bring the treaty into force by the 22nd Conference of Parties, or COP22, which will take place in Marrakesh, Morocco, in November 2016.
The European Union, which accounts for a 12 percent of global emissions, is looking into ratifying the deal on behalf of its 28 member states instead of waiting for them to get on board individually, as some member countries have put up opposition.
Classically, complex and controversial international accords like the Paris Agreement take several years to enter into legal force. If the climate pact comes into effect by the end of this year, as Ban hopes, this will have been accomplished at unprecedented speed.
Partly behind this push is uncertainty around results of the US presidential election. Republican candidate Donald Trump has vowed to scuttle the agreement - but would likely not be able to do so until after the four-year term has ended.