Comments made by Palestinian President Mahmoud Abbas concerning the causes for the Holocaust have drawn growing condemnation around the world.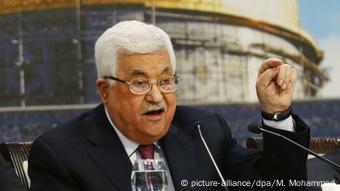 Abbas also called the creation of Israel a European 'colonial project'
In one portion of his 90-minute televised speech to the Palestinian National Council a day earlier, Abbas blamed the behavior of European Jews for the Holocaust — wherein 6 million Jews were murdered by the Nazi regime. He added that his views were based on books written by Jewish authors.
"The conclusion of these books is that animosity toward Jews was not because of their religion, but because of their social behavior," he said. He added that such behaviors included money-lending and banking.
The 83-year-old also called the creation of Israel a European "colonial project aimed at planting foreign bodies in the region."
"But this does not mean we should uproot them. We should coexist with them on the basis of a two-state solution," he added.
'Grossly inaccurate'
The remarks prompted swift criticism on social media from Israeli, European and US officials, as well as an NGO and a Holocaust museum.
Israeli Prime Minister Benjamin Netanyahu blasted Abbas's comments as more evidence of his anti-Semitism, saying it was time for the sentiment "to pass from the world."
German Foreign Minister Heiko Maas tweeted: "We strictly oppose any relativization of the Holocaust. Germany alone bears responsibility for the most atrocious crime in human history. The memory thereof is a warning and obliges us to confront every form of anti-Semitism in the world."
The New York-based Anti-Defamation League condemned Abbas' remarks on Twitter, describing them as "anti-Semitic assertions."
The US Holocaust Memorial Museum also condemned his remarks, saying they were "grossly inaccurate." In their statement, the museum noted that the Nazi regime believed Germans were "racially superior" to Jews and viewed their presence as a threat.
US Middle East envoy Jason Greenblatt said Abbas' comments were "very unfortunate, very distressing and terribly disheartening. Peace cannot be built on this kind of foundation."
Dan Shapiro, the former US ambassador to Israel under President Barack Obama, remarked: "It's over for Mahmoud Abbas. What a disgusting note to go out on."
Michael Oren, the deputy minister for diplomacy in Israeli Prime Minister Benjamin Netanyahu's office, sarcastically noted on Twitter: "Now there's a peace partner."
Abbas has previously faced criticism for his comments concerning the Holocaust. In a dissertation he wrote in the 1980s, Abbas relativized the Holocaust and argued that Zionist movements collaborated with Adolf Hitler's regime.
He later defended himself against accusations of Holocaust denial, saying in 2014 that the mass murder of Jewish people during the Holocaust was "the worst crime of modern history."
rs/sms (AP, dpa)
Every evening at 1830 UTC, DW's editors send out a selection of the day's hard news and quality feature journalism. You can sign up to receive it directly here.