The arrests across several cities in the central province of Punjab started immediately after Sunday's bombing, officials said Tuesday.
Prime Minister Nawaz Sharif has ordered law enforcement agencies to speed up the offensive against the Islamist militants. He vowed to chase what he called the "cowardly" terrorists "until all are eliminated," in a televised address to the nation Monday evening.
"I want more proactive coordination between law enforcement and intelligence agencies," he said. "The terrorists have assassinated our children - sons and daughters - and God willing, we will wipe them out from this country.
Sharif also warned extremists against using Islam to justify their violence in the mainly Muslim nation. Of the 72 dead from Sunday's attack, 14 have been identified as Christians and 54 as Muslim, said Lahore Police Superintendent Mohammed Iqbal. The rest have not been identified.
Of the 350 suspects arrested by the intelligence agencies and police since Sunday, security officials would not say how many were linked with Sunday's bombing.
A tit for tat war
Pakistan launched an offensive against militants in the North Waziristan tribal region bordering Afghanistan in June 2014, and says more than 3,000 militants have so far been killed. In December 2014, the Taliban retaliated with one of the worst terror assaults in the country, killing 150 people - most of whom were children - at a school in northwestern city of Peshawar.
In recent weeks, Pakistan's Islamist parties have been threatening widespread demonstrations to protest what they say is Sharif's pro-Western stance. Earlier this month, Sharif officially recognized holidays celebrated by Pakistan's minority religions, including Easter and the Hindu festival of Holi.
Not in our name?
The bombing at a public park in the eastern city of Lahore was carried out by Jamaat-ul-Ahrar, a splinter group of the Pakistani Taliban, and linked with the al-Qaeda terrorist network.
It targeted Christians celebrating Easter. There are only about 2.5 million Christians in the mostly Muslim country of 180 million. The group promised more bombings.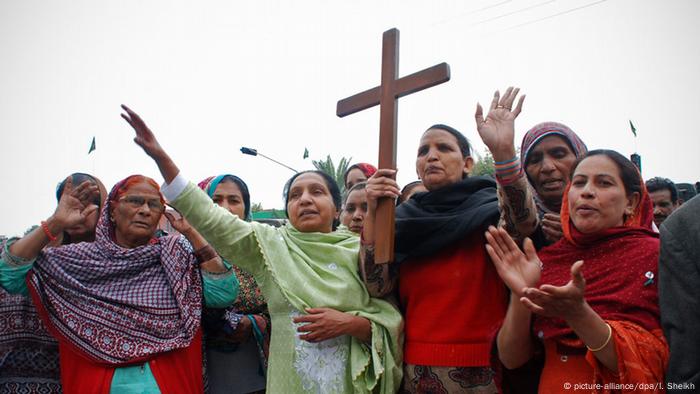 Pakistani Christians shout slogans during a protest against the bombing in Lahore
More than 30 children died in the attack and about 350 people were wounded. It was the deadliest attack in Pakistan in a year, Lahore's chief administrator, Mohamed Usman, said.
The bomb used was a crude device loaded with ball bearings, designed to rip through the victims for maximum damage, said counterterrorism official Rana Tufail. He identified the suicide bomber as Mohammed Yusuf, a known militant recruiter.
Most of the victims will be buried on Tuesday after 68 of the 72 bodies were handed over to families after post-mortems, police official Asghar Ali told dpa. Four of the dead remained unidentified.
jbh/kms (dpa, AP, PTI)