An administrative court in Germany's aviation city of Braunschweig on Wednesday backed Germany's LBA federal aviation authority in its refusal to extend Etihad's code-shares on 31 routes beyond 15 January.
The ruling leaves untouched, however, another 52 connections shared with Air Berlin, Germany's second-largest but struggling airline.
Etihad had sought extensions for the 31 disputed routes until late March when its winter timetable ends.
Renegotiate aviation accord, urges Germany
The LBA based in Braunschweig had argued that Etihad's wish did not comply with an aviation agreement between Germany and the United Arab Emirates (UAE).
A German transport ministry spokesman said the UAE had repeatedly been offered talks to bring its aviation ties with Germany into legal conformity - as Brussels sought overall aviation competition improvements between the EU and the Gulf region.
Etihad said Wednesday it was "deeply disappointed" with the Braunschweig ruling and would take its case to appeal. It has two weeks to file an appeal with the next highest court in Lüneberg, which like Braunschweig lies in Germany's northern state of Lower Saxony.
Both airlines reassured passengers that flights already booked on the 31 routes in question would be carried out as planned.
Etihad holding in Air Berlin
Etihad bought into Air Berlin in 2011, which for years has run up loses, and currently has a 29.2 percent holding.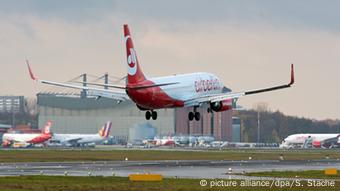 Landing at Berlin Tegel - an Air Berlin flight
The code-sharing, which also enables Air Berlin passengers to fly with Etihad was part of a rescue plan for the German airline, Etihad head James Hogan said in October.
In November, Air Berlin chief Stefan Pichler submitted a new strategy for 2016, including a stronger focus on long-range routes and cuts in administrative jobs to make its operations more profitable.
He proposed long-haul routes from Air Berlin's second hub, Düsseldorf, to the US metropoles of San Francisco, Boston and Dallas.
Berlin's planned new airport, Schönenfeld, whose opening has been delayed until 2017, would be used mainly for inner-Europe connections, he said.
Air Berlin employs some 8,000 personnel.
ipj/jil (AP, dpa, Reuters)