Twenty-two year-old Otto Warmbier, an American finance student detained for over a year by North Korea, died on Monday, according to a statement issued by his family.
North Korea last week released Warmbier to American authorities while in a coma. Pyongyang said he was released on "humanitarian grounds."
Last year, Warmbier had been sentenced to 15 years hard labor for allegedly attempting to smuggle a propaganda poster out of the communist country.
Read more: Vacationing in North Korea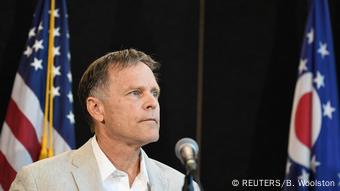 Otto Warmbier's father, Fred
"It is our sad duty to report that our son, Otto Warmbier, has completed his journey home," his family said. "The awful torturous mistreatment our son received at the hands of the North Koreans ensured that no other outcome was possible."
Before he was sentenced, North Korean authorities broadcast a sobbing confession by Warmbier in which he said he made "the worst mistake of my life."
Warmbier suffered significant brain damage during his detention in North Korea. According to doctors, he had been in a "state of unresponsive wakefulness" since arriving at an Ohio medical center last week.
Read more: Can North Korea's elite oust Kim Jong Un?
'Despicable actions'
US President Donald Trump extended his "deepest condolences" to Warmbier's family, underscoring the "brutality" of the regime in North Korea.
"There is nothing more tragic for a parent than to lose a child in the prime of life," Trump said in a statement.
South Koreans respond
South Korean President Moon Jae-in said North Korea should be help responsible for the death.
Moon said in CBS interview on Tuesday he "cannot know for sure" if North Korea killed Warmbier, but it was "quite clear that they have a heavy responsibility."
Moon has previously struck a more diplomatic tone with Pyongyang, saying he wants to engage North Korea in dialogue and revive stalled exchanges including economic cooperation projects.
Ohio Governor John Kasich, a former Republican presidential candidate, described Warmbier as a "young man of exceptional spirit," while condemning atrocities committed by the North Korean regime.
"All Ohioans mourn the death of Otto Warmbier," Kasich said. "This horrendous situation further underscores the evil, oppressive nature of the North Korean regime that has such disregard for human life."
US lawmakers have called for disciplinary measures against North Korea. Republic Senator Rob Portman said Pyongyang should be "universally condemned for its abhorrent behavior." Democratic Senator Sherrod Brown said North Korea's "despicable actions … must be condemned."
Tensions have flared between Pyongyang and Washington since Trump took office in January. However, the US president has expressed openness to meeting with North Korean leader Kim Jong Un.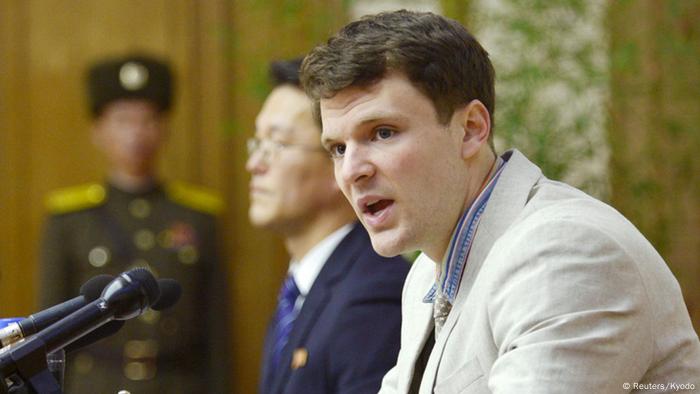 Warmbier's parents described him as a "warm, engaging, brilliant" son
ls/rc (AFP, AP, Reuters)