Helmut Dietl, referred to in one obituary as "the German Woody Allen," made no bones about his desire to leave behind a legacy in celluloid.
"Some people have kids, others make movies. Everybody fights against their own mortality, as best as they can," Dietl, one of Germany's most renowned directors, once said in an interview.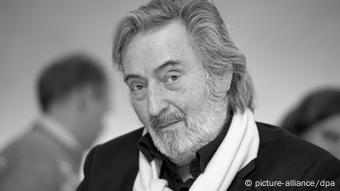 Dietl tried his luck in Hollywood earlier in his career, but remained best known in Germany
Helmut Dietl died in his Munich apartment on Monday, surrounded by his family, according to "Die Zeit" newspaper. In November 2013, Dietl told the same paper that he was suffering from serious lung cancer - one month after receiving the diagnosis himself. At the time, he acknowledged that his chances of recovery stood at just 10 percent, "probably less."
"If you consider how much I smoked, then it's pretty much a miracle that everything went so well for so long," he told "Die Zeit" at the time. Six years earlier, Dietl had quit smoking, but he famously estimated that he must have consumed around one million Gitanes prior to kicking the habit.
Parodying Bavaria's upper crust
Dietl's particular speciality was parody and farce, especially with attention to Germany and Bavaria's media landscape.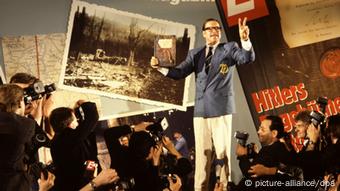 'Schtonk!' followed the publication of diaries purportedly written by Adolf Hitler, which turned out to be fake
His 1992 film "Schtonk!", a comedic exploration of the fake "Hitler diaries" published in news magazine "Stern", was nominated for the Oscar for best foreign language film in 1993, also winning the German Film Prize. His later project "Late Show," concerning a TV talk show director and the lead anchor, attracted major German celebrities Harald Schmidt and Thomas Gottschalk to the lead roles.
In the 1980s, his "Kir Royal" TV series about the Munich glitterati scene - and particularly a celebrity gossip reporter "Baby Schimmerlos" - parodied the "Münchner Abendzeitung" newspaper and reporter Michael Graeter. The series' name, Kir Royal, referred to an aperitif popular in some circles in Bavaria.
His most recent project, "Zettl", was seen as an attempt to rekindle the success of Kir Royal, but proved a flop amongst critics.
In 2005, Dietl directed a project called "Vom Suchen und Finden der Liebe" (On Seeking and Finding Love), that seemed to draw inspiration from his own disjointed love life; he married four times and had three children.
"One cannot give up on the belief in true love, even if personal experience seems to suggest the opposite," Dietl once said. "Otherwise, you might as well sit down and wait for death."
Last year Dietl received a "Bambi" lifetime achievement prize for services to the film industry from the German Film Academy.
msh/bk (AFP, dpa, epd)