"Everything Good Will Come," Sefi Atta's first book, tells the story of two young women living in Lagos, Nigeria. The two friends, Enitan and Sheri, live in Ikoyi, a neighborhood that is close to the center of the city and far away from the noise and filth of the poorest districts.
Enitan, from a Christian family, is the daughter of a well-to-do attorney, who defended human rights activists during the military dictatorship in Nigeria in the 1970's and 1980's. Sheri is a Muslim whose family is not quite as wealthy. She later becomes the mistress of a high-ranking military officer in northern Nigeria, who would prefer to lock her up at home all day.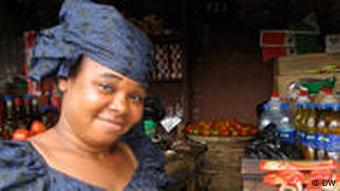 The market women know how to negotiate
In their own way, both women try to find their place in a society that is dominated by men.
"If a woman sneezed in my country, someone would call her a feminist. I'd never looked up the word before, but was there one word to describe how I felt from one day to the next? And should there be? I'd seen the Metamorphosis of women. (...) By the time they came of age, millions of personalities were chanelled into about three prototypes: strong and silent, chatterbox but cheerful, weak and kindhearted. All the rest were known as horrible women."
Economic division
The story begins in the 1960's and follows the women through nearly three decades. At that time, Lagos was still the capital of Nigeria and many high-ranking public officials lived in the Ikoyi district. It was here that Sefi Atta was born in 1964.
She remembers the time when the four-lane bridge to Victoria Island was constructed: "It was so exciting when the bridge was built and I would actually go across the bridge either on foot or by bicycle to visit my friends on Victoria Island. You can't do that now. At least I wouldn't let my kid do that. In those days, it was perfectly okay."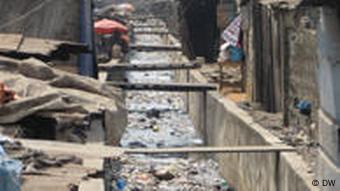 Some neighborhoods, like the Mushin district, are affected by severe poverty
Today, most of the residents of Ikoyi wouldn't even think of riding a bicycle. They live in walled-in estate areas with security guards. Each villa, surrounded by yet another wall topped with barbed wire, is more kitschy and ornate than the next.
The middle-class, which Atta describes in her novel, can hardly afford to live here. Nevertheless, the lively, bustling, "real" Lagos can also be found in this district - like at the market in Obalende. Chickens are held in rows of tiny cages, their eggs stacked up carefully in front of them; heads of lettuce and pineapples are carefully laid out on the market tables. Mopeds and three-wheelers speed through the crowds.
"The flies swarmed the marketplace, perching on mangoes, between spinach leaves and lumps of cow flesh," writes Atta in her book. "Later they would settle in the gutters and clotted drains and fly back to the food."
Marketplace inspiration
The reality today is not that much different. Nevertheless, the author loves the atmospheres at the market, which can sometimes be a challenging experience for visitors. "Your brain has to be active because the market women are very good at bargaining," she said. "And they can spot when you're not from around here. It wouldn't matter if I was dressed in traditional wear. They would still know and they would still be able to cheat me - or outbid me, I should say."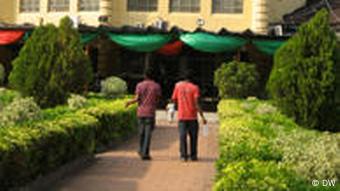 When Lagos was the capital, many public officials lived in the Ikoyi district
"It was a hard city to love; a bedlam of trade. Trade thrived in the smallest of street corners; in stores; on the heads of hawkers; even in the suburbs where family homes were converted into finance houses and hair salons, according to the need. The outcome of this was dirt, piles of it, on the streets, in open gutters, and in the marketplaces, which were tributes to both dirt and trade."
The young people with good jobs prefer to shop at the supermarkets, said Atta. Otherwise, the young elite can be found in the chic cafes on Victoria Island, where they sip their cappuccinos and eat their sandwiches while they use the wireless internet connection to send emails from their laptops - just like their peers in New York, Paris or Tokyo.
When they're not hanging out in cafes, the wealthy youth in Lagos head to the beach. There, a sign cautions bathers of the dangerous current, but the sandy strip is ideal for picnicking or outdoor games. A cement wall protects the new boardwalk from floods, which used to regularly wash sand up onto the street.
'Lagos will never spoil'
Lagos is a metropolis in transformation. The impoverished neighborhoods contrast sharply with the shiny facades in the banking district. Many of the mounds of garbage that used to lie around the city have disappeared, and market stands have been cleared from the roads. So are things improving in Lagos?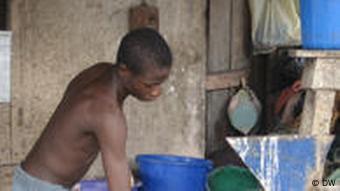 Grinding roots in a mill is all in a day's work for some
For Sefi Atta, it's difficult to give a simple answer. "There's a saying: 'eko o ni baje,' which means Lagos will never spoil. I just hope we won't spoil it, we the people of Lagos."
"The first day we telephoned each other: What kind of country were we living in? How would we ever get out of our homes? By the second day, children were ecstatic. Two whole days and no school! The third day and they were driving their parents crazy. Solutions began to emerge fast. A bank was sending a bus around. Someone knew an employee of an oil company with petrol to spare; another somebody knew somebody who knew somebody else who was selling petrol at blackmarket rates."
The traffic jams, the shortage of petrol, the masses of people, the rising sea levels - there aren't many reasons to be optimistic about Lagos.
"And yet I'm still optimistic for some reason," said Atta, "and maybe that's a fact, that we have no choice but to be optimistic about Lagos."
Author: Thomas Moesch (kjb)
Editor: Louisa Schaefer