Freedom of speech is one of the immovable foundations of any democracy. And along with it comes tolerance: the willingness to respect beliefs that don't comply with one's own. Tolerance breeds freedom, and it is precisely this freedom that the western world - Germany included - cherishes so dearly.
Any restriction of this freedom must be properly justified. In Germany there is one such restriction: the principle of wehrhafte Demokratie, or "fortified democracy." This principle forbids tolerance towards any group or individual that seeks to fight against or to eradicate the foundations of democracy in Germany. It came about in response to the way in which the National Socialists seized power in 1933, and it prevents all radicals - on the far right or left - from becoming government officials.
Now, what does this all have to do with the Olympic Games? Well, Germany's most-read newspaper, the Bild Zeitung, has been writing about a "Nazi scandal in Germany's team" since last Friday. Team representatives and politicians across the spectrum have expressed concern, speaking of a "breakdown" and calling for an "explanation" of what's happened. And all this because a 23-year-old rower has the wrong boyfriend!
Uncalled for
There's a German adjective that is used to describe the liability that one is forced to take on for mistakes or crimes committed by one's family members. It's called "sippenhaft," and it's a common practice in autocratically governed states. Does Germany need to be doing this, in 2012? Does it really still have to prove how thoroughly it has dealt with its past?
Nadja Drygalla has done nothing worthy of the scandal that has broken out in German media over the past few days. She isn't affiliated with any extremist party, hasn't been to any right-wing demonstrations, hasn't insulted any foreign athletes or even behaved in any unsportsmanlike manner. But she lives together with a man who's known to frequent right-wing circles and who ran for state office in Mecklenburg Pomerania with the right-wing National Democratic Party, NPD, last year.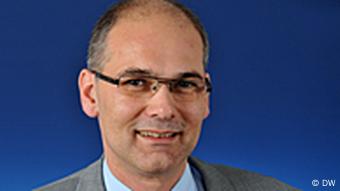 DW's Felix Steiner
Of course we don't all have to agree with who Ms. Drygalla chooses to spend her time with, and, admittedly, this doesn't exactly cast her in a very positive light. But apart from than that? Even if her boyfriend refuses to cut his ties to right-wing circles, as the case is, does this mean she should be forced to vacate the Olympic Village?
It's her right to have a relationship with whomever she pleases. She even has the right to vote for the National Democrats if she wants to, a party which is, after all, allowed in the German parliament. To deny these rights to a member of the German Olympic team is downright restrictive and simply a consequence of a "political correctness" that has outstretched its bounds in Germany. At any rate, it is most certainly not a sign of the freedom that Germany cherishes so dearly.