Until recently, Hungary's Prime Minister Viktor Orbán was the black sheep among EU leaders. Out of necessity, he was invited to EU meetings; hardly anyone was ready to meet him on a bilateral basis. The overall guideline was to try and contain him with a blend of subdued criticism, ignoring him and EU rule of law procedures. Russian President Vladimir Putin, too, had been a pariah until recently, barred from key geopolitical panels and meetings of world leaders, ridiculed by former US President Barack Obama as the leader of a regional power.
Unavoidable
In the meantime, this has changed completely. It's not that Putin and Orban have turned, all of a sudden, into esteemed and respected members of the international community. However, since the annexation of Crimea and the outbreak of war in eastern Ukraine, since the eruption of the refugee crisis and especially since the ominous year 2016 that brought with it a Brexit and the election of Donald Trump as US president, both leaders' voices now carry greater weight across the EU - and internationally. Their influence is negative, to be sure, but significant. They are, in various nuances, troublemakers and even political arsonists, but no one can ignore them anymore. They join Trump and Erdogan as ringleaders and spokesmen of the current anti-democratic, authoritarian swing in Europe and across the globe.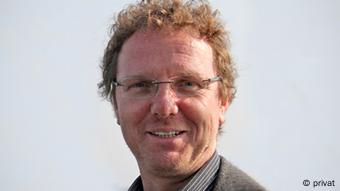 Keno Verseck is a freelance journalist specializing in central, eastern and southeastern Europe
Demonstrating that this is the case was also the purpose behind yesterday's meeting between Putin and Orban in Budapest. It was the fourth meeting of the two leaders since the beginning of 2014 - the third since the annexation of Crimea and the resulting war in eastern Ukraine; a war that was provoked by Russia and is still being fomented by it. Ostensibly, the Russian and Hungarian leaders discussed the details of a number of bilateral business projects which have been the subject to negotiations for years. It wouldn't have been necessary for Putin himself to travel to Budapest; those projects, however, including the expansion of Hungary's nuclear power plant Paks, served as backdrop for underhanded threats and provocative remarks. Orban could show that he is backed by one of the most powerful men in the world. Putin, in turn, could demonstrate that he wields the power to divide the EU and the international community.
The most memorable statement from Thursday's meeting came from Orban. In the western part of the European continent, said Hungary's head of government, a strong anti-Russian sentiment had developed, anti-Russian policies had become a fashion. That was a quite remarkable statement, given that Orban - during the first two decades of his political career - had been among the most vociferous critics of Soviet totalitarianism and anti-democratic developments in post-Soviet Russia. Furthermore, when he spoke about the Soviet Union and Russia, his words often exhibited a condescending undertone, sometimes featuring an anti-Russian, anti-Slavic resentment that used to be - and partially, still is - so prevalent in Germany and central Europe.
Mutual praise
For his part, Putin, who had traveled to Budapest with an enormous entourage, praised Hungary as a very reliable partner and was hugely pleased with Orban's gestures, which have, of late, become ostentatiously russophile: among other things, a new impressive monument commemorating fallen Russian and Soviet soldiers had been inaugurated in the northern Hungarian town of Esztergom only a few days prior to Putin's visit. In passing, the Russian president blamed Ukraine for the flare-up of the war in the eastern part of that country. Orban, in turn, interjected an almost devious remark: Ukraine, he said, did not comply with the Minsk agreement; the rights of minorities, including Hungarians in western Ukraine, were not observed to the extent that had been envisaged.
This was no landmark meeting. Accordingly, the media paid much less attention to it than to Putin's visit in Budapest almost two years ago. This, however, is the real news here and the upshot of the Orban-Putin meeting. In a relaxed manner, both leaders were able to demonstrate the motto that is now prevailing more and more in international politics: policies that uphold values are a thing of the past, political pragmatism now tops the agenda.