It's no accident that Hilton's tongue-in-cheek video, which dominated the Internet on Wednesday, August 6, starts with a crowd shot from Barack Obama's July speech in front of Berlin's Victory Column.
That's precisely the way the McCain campaign began its own anti-Obama advertisement entitled "Celebrity," following it up with brief images of Britney Spears and Hilton herself.
The somewhat muddled message was that, by having the audacity to speak to 200,000 people in a major world city in a country closely allied with the US, the Democratic candidate was descending to the level of a tabloid celebrity.
Any time anyone in Europe takes an interest in a US election, so the implicit logic, something must be deeply fishy and anti-American.
What a change from the go-it-alone stance of the Bush administration, which led to such cost-efficient and confidence-building global solutions as the Iraq War.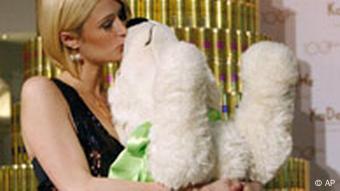 Hilton didn't have any problems with this white-haired dude...
And what an example of consistency from the Republican Party, whose modern-day hero, Ronald Reagan, began his political career as a foreign-policy expert…um, wait…a celebrity.
But the "wrinkly white-haired guy" -- as Hilton, channeling the gut feelings of millions of Americans under the age of 50, called the presumptive Republican nominee -- didn't count on his celebrity adversary fighting back.
Her video matches McCain's image for image, showing pictures of TV retirees the Golden Girls, fawning CNN interviewer Larry King and Colonel Sanders, the white-bearded mascot of the Kentucky Fried Chicken food chain.
A portentous off-screen voice intones "He's the oldest celebrity in the world," then asks: "But is he ready to lead?"
The point, an entirely valid one, is that as the world's most famous politician an American president is by definition a celebrity. Indeed, the ability to manage fame is part of the job.
Hilton's subsequent assurance that she is "like totally ready to lead," while thumbing through a travel magazine in search of the best place to improve her tan, is also on the money.
After all, what can any rational person hope to learn about a candidate's inner readiness to lead a country like the US from a medium as surface-oriented as TV?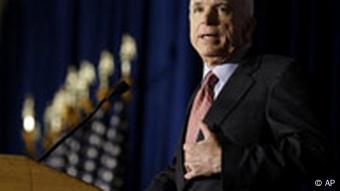 ...this one, however, rubbed her the wrong way
All one can reasonably glean from television ads are a few indications of the candidates' positions -- and of the depths to which their campaigns are willing to sink to win the election.
In McCain's case, the latter include playing on a primitive suspicion and ignorance of Europe that post-Bush America would do well to discard.
Hilton, whose previous most popular performance in an Internet video came in a badly lit home-porn movie, seems to understand this, as her obvious preference for the "guy who wants change" over the "white-haired dude" indicates.
By wearing her heart on her sleeve, instead of having sex for the camera, the celebrity heiress has finally made something worth watching.
And made the self-proclaimed serious, experienced candidate John McCain look pretty foolish.