Cavemen did it, the Romans did it, and we do it too: play. That instinct is mankind's most important ability in enabling cultural progress.
At this year's Gamescom in Cologne, 800 exhibitors spread out over roughly 190,000 square meters (2 million square feet) of exhibition space to flood the market with novelties like "Uncharted 4," "Star Wars: Battlefront" and "Mafia 3." Even ancient computer games on yellowed monitors have their own section at the trade fair. Added to that are halls for cosplayers in their gear and indie games, a family games area and several for massively multiplayer online role-playing games and first-person shooters. Not to forget the German armed forces, the Bundeswehr's stand adorned with a mighty tank.
Born in 1985, I just made it into the digital native generation. I was in grade school when we finally got a Commodore 64, an eight-bit home computer with 64 KB RAM. We played "Bubble Bobble" for hours, a jump'n'run game in which pixeled heroes spit bubbles that swallow up their opponents. After that came the Gameboy, the Xbox later on. Sometimes I play on my smartphone or tablet nowadays. But, to me, one day at Gamescom is digital overkill.
More than 300,000 people have made their pilgrimage to Gamescom thus far this week. It's nearly impossible to get a handle on the gargantuan games scene. But, for that very reason, we shouldn't be afraid of it or ignore it. Computer games, even first-person shooters, are an elemental part of our culture - whether we like it or not.
Imagine life without digital games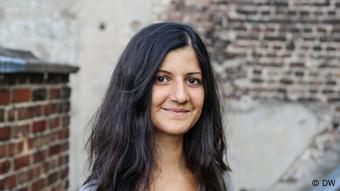 DW reporter Ananda Bräunig
Computer games are deeply rooted in our society. Imagine getting rid of all the games that surround us in everyday life, every last one. Delete the game apps from our smartphones. At the retirement home, I serve notice to my grandma that the Wii console the residents use for virtual bowling will be removed. Then I pay a visit to the school and tell the teachers that they will no longer be able to give math instruction on their tablets with playful apps. OK, it's clear: Computer games are an important part of everyday culture, and not only that. If they're well-designed, digital games interweave film, literature, music and design. Three-D games are devised by programmers and engineers, authors, designers and architects.
More than a business, computer games - like analogue games - greatly influence society, whether we know it or not. Back in 1939, the Dutch cultural historian Johan Huizinga coined the term "Homo Ludens" (human at play). People play not just out of boredom, Huizinga explained, but to hone their abilities. And, when they play together, that cements a community, which the players then further develop. Huizinga even postulated that politics, science, religion and law all have their origins in playful activity.
A vision of the future
Unsurprisingly, people love games in the digital era. Almost half the population in Germany play at their computers, smartphones or consoles. The form may have changed, but the play instinct is constant.
So, games are part of our culture - but I do admit to feeling queasy when I run across a camouflaged first-person shooter fan proudly wielding a big shotgun at Gamescom. Many say that first-person shooters foster aggression. Possibly - so can horror and action films. Not every film or game has cultural or educational value. Nor does all literature. "Fifty Shades of Grey" is a form of cultural expression, even if I don't like the book. At Gamescom, as at book fairs, all genres are represented - regardless of individual taste.
People who play video games toggle between the real and digital worlds, and there's nothing wrong with that. But, gamer or not, it's important to come to terms with the gaming scene, because some parents still allow their children to play age-restricted games because they're unfamiliar with the scene or say it's "only" a game. Another faction deplores and demonizes computer games altogether. That attitude isn't up to date either: In the ever-expanding indie game market, some games are valuable. They show us how a person with terminal cancer lives or how we can settle a new planet while protecting the environment. We wouldn't want to miss out on that.