"There's no time to lose!" declared Christian Sewing, Deutsche Bank's new CEO, barely three weeks into the job, as he outlined the bank's radical restructuring plans. He is clearly a man in a hurry.
Let's be frank, Germany's biggest lender is ripe for major reforms. The last three years under predecessor John Cryan were really a period of tidying up the past. Cryan had little time to prioritize the bank's future because its legacy burdens were so extensive. If Cryan was a wrecking ball, Sewing is to become the architect of the new Deutsche Bank.
Read more: Deutsche Bank admits huge unintended transfer
Goodbye America, hello Europe!
Something that should have happened long ago is about to become reality. Deutsche Bank will concentrate more on its core strength in Germany and Europe. The bank's US business will be downsized — it has no chance of beating the big Wall Street institutions anyway. However hard Christian Sewing may try to insist that there will be "no withdrawal from the US business," a parting of ways will definitely happen, but maybe in installments.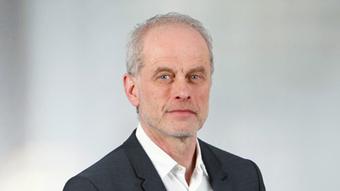 Henrik Böhme, DW's online business editor
Just as Volkswagen will probably never sell another diesel vehicle in the US, Deutsche Bank will have to wave goodbye to its American customers, although it will probably maintain a postbox there.
Now to the home market: Germany and Europe. Private and corporate customers are to be brought back into focus, as well as those with big wallets. In the light of the bank's recent past, this is an almost revolutionary act.
Ask any former Deutsche Bank private account holder and they'll recount tales of the German lender's overconfidence that led to many of its domestic private customers being hung out to dry. DB wanted to dig the same gold mines that its powerful US competitors dominated, so it focused on those instead. Before long, the bank didn't care about its domestic corporate banking customers either.
Read more: Saving Deutsche Bank: A tall order
Commitment instead of arrogance
As a result of those errors, when German companies needed financing for acquisitions or major mergers, they no longer considered Deutsche Bank. As for the financing of small and medium-sized businesses — the backbone of the German economy — DB turned its nose up at them too. They were deemed too small, too much work with too little yield. It was this arrogant attitude that drove Deutsche Bank to the abyss.
Now it wants to repair its reputation. But beware! German SMEs in particular have long since been the domain of DB's competitors: the savings banks, which, like the cooperative Volksbanken und Raiffeisenbanken, have very strong regional roots. Commerzbank, Germany's second largest private bank, also sought out this sector after its own existential crisis. In other words, not one of these companies is awaiting a visit from Deutsche Bank.
Read more: China's HNA group cuts stake in Deutsche Bank
To this end, there can be no guarantee of success for Christian Sewing - even if the man knows the domestic market like the back of his hand: after all, he started 26 years ago in the Bielefeld branch. Deutsche Bank still has an expenditure problem: it simply costs too much for the profits it makes. The newly presented quarterly figures make interesting reading, while the major restructuring Sewing just announced will be, without a doubt, very costly. Instead of €500 million, DB's finance chief now estimates €800 million will be needed, and that's just for this financial year. The planned job cuts, especially in the US, won't come cheap.
Success remains uncertain
Deutsche Bank's rebuild will take some time, so Sewing can go at his own pace. He'll likely face some resistance from within, simply because the staff remains demotivated by the events of the past few years — going one way, then the other, without a clear plan.
Will there be light at the end of the tunnel? In two years, Deutsche Bank will be 150 years old. It remains to be seen whether the bank will be on its deathbed or will celebrate the occasion with renewed strength. But I wouldn't put any money on it!