The evening before his 70th birthday on Tuesday, Carreras stood onstage in Tokyo. "It's wonderful to work at this age and to share my feelings through music," he said in an interview with the German press agency dpa.
Christmas and New Year's concerts are scheduled in China, and on January 15, the Spanish tenor will sing a program of popular opera, operetta and musical tunes at the Alte Oper in Frankfurt.
Singing at the hairdresser's
Born on December 5, 1946, the policeman's son once entertained customers in his mother's beauty salon. At age six, a "pivotal experience" had been viewing the movie "The Great Caruso," starring Mario Lanza.
His parents could hardly have imagined that the boy would follow in the footsteps of those two great tenors, but they enrolled him at the music conservatory in his home town of Barcelona. His first public appearance came at age 11.
Carreras briefly studied chemistry, but the pull of music was stronger. By 1970, at the age of 24, he'd given his professional debut in Barcelona, and by mid-decade, he'd reached the world's major opera stages: the Metropolitan Opera in New York, Covent Garden in London and the Vienna State Opera. "If a tenor is good, he'll advance fast," Carreras once modestly said. "A tenor has an easier time than any another type of voice."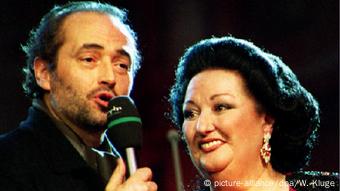 With Montserrat Caballé at a benefit gala in 1995
The timbre - and the personal note
True perhaps, yet there was something different about this young singer. The famous soprano Montserrat Cabbalé became his most important mentor after Carreras appeared with her in the opera "Norma" by Vincenzo Bellini. He'd sung the role of Flavio, an incidental role, but to her, the sound was anything but incidental.
Expression, timbre and complete voice control were his trademarks, along with a very personal touch. "Do you know why you're so good?" the conductor Herbert von Karajan once asked. "Because every opera goer thinks you're singing just for him."
"We haven't heard a more resonant and velvety beautiful tenor voice of such pure volume and fine texture for a long time," wrote the German music critic Jürgen Kesting. And none other than the great tenor Luciano Pavarotti described Carreras' timbre as "the most beautiful of any tenor since World War II."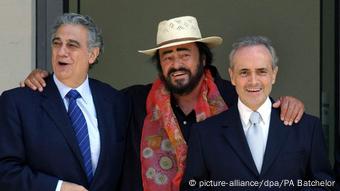 The Three Tenors
Conquering the stages - and the illness
Herbert von Karajan actively promoted Carreras - and in the boom years of the record industry, encouraged him to take on not only the lyrical but also the highly dramatic roles - to the detriment of his voice, critics said.
In 1987, at the height of his fame, Carreras was diagnosed with leukemia, and his doctors gave him minimal chances of survival. But after a bone marrow transplant, the singer was back on his feet. A year after his diagnosis, he performed in Barcelona, calling this one of the most important appearances in his career and "a very emotional moment for me."
In 1988 he founded the Carreras Foundation for Leukemia, which has meanwhile yielded over 100 Million euros ($107 million) in donations for research and treatment of the disease. Benefits for the foundation are broadcast yearly in Germany.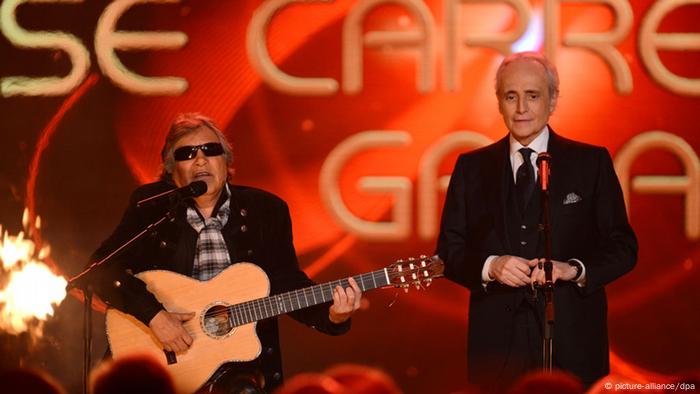 With Jose Feliciano at the José Carreras Gala in the German city of Rust
The illness has left its mark on the artist, but in a positive sense, he emphasizes: "I think that a person who has undergone difficult moments like these in his life becomes more mature and has different views and priorities."
The Superstar
Over the years, Carreras has moved beyond opera into the areas of art song and pop music but reached his widest audience as one of the "Three Tenors" along with Plácido Domingo and the late Luciano Pavarotti. Singing for astronomical sums, they reached 1.3 viewers in a televised performance at the 1994 World Cup soccer championship in Los Angeles.
Carreras began his farewell tour in October 2016. It is expected to last two or three years, as he explained: "I am trying to reach this end in a way that won't be too much of a shock for me. Slowly, slowly," says the artist, who lost his mother to cancer at age 17 and learned early on that every moment counts.
What will come after that final performance? Matter-of-factly, he adds, "I'll continue to sing under the shower. Count on it."