Dozens of protesters gathered outside a court in the German city of Kassel on Wednesday as the latest trial concerning Germany's ban on abortion "advertising" began.
Gynecologists Natascha Nicklaus and Nora Szasz face charges of posting on their website that they offer abortions. A list detailing the outpatient surgeries the doctors perform includes the legally contentious entry: "Abortion — surgical or medicinal."
According to Paragraph 219a of Germany's criminal code, anyone who publically "offers, announces [or] advertises" abortion services faces up to two years in jail or a fine. The law further states that these constraints particularly apply to those who stand to "financially benefit" from terminating pregnancies.
The doctors in Wednesday's trial said they chose to post the information on their website to accurately depict the services they offer and to also give pregnant women access to information about their options.
"There's no reason to hide the fact that we carry out abortions," Szasz told local public broadcaster Hessenschau.
The doctors want "women who are unintentionally pregnant and in an emergency situation to receive information quickly," she added.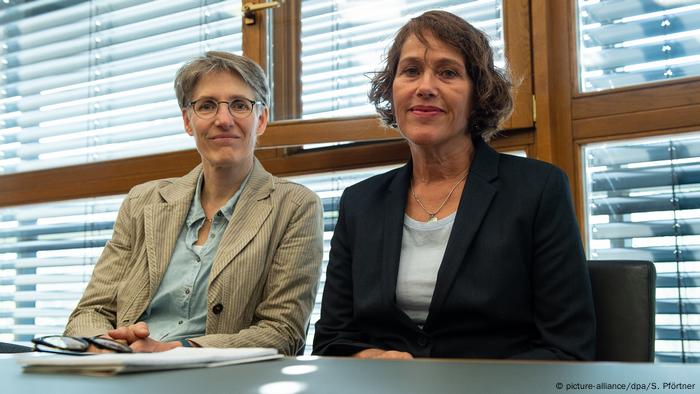 Nicklaus and Szasz said they want to support women who have unintentional or unwanted pregnancies
Defense says law unconstitutional
Knuth Pfeiffer, the doctors' lawyer, told the court his clients should be cleared of all charges, arguing that Paragraph 219a is unconstitutional. The law encroaches on a patient's right to freedom of information, freedom of opinion and the right to self-determination, Pfeiffer argued.
Furthermore, Pfeiffer said financial motives were not at play, as the two doctors carry out 10 to 15 abortions per year — which bring in less money than caring for pregnant women who carry to term.
Abortions in Germany are technically against the law, but there are several circumstances where it isn't prosecuted, including medical necessity, if the pregnancy was the result of a rape, or if the woman is less than 12 weeks pregnant and goes to a counseling session beforehand.
Still, publically stating that a clinic carries out an abortion is illegal. Doctors are particularly impacted by the law, which limits them to telling their patients whether they perform the procedure only during face-to-face appointments.
'Information is not a crime'
Numerous supporters gathered outside the court in Kassel on Wednesday to show solidarity with the two gynecologists and to also call for a change in Germany's abortion law.
Organizers estimated that between 200 and 300 people took part in the demonstration, carrying signs that read: "Solidarity with the accused gynecologists" and "information is not a crime."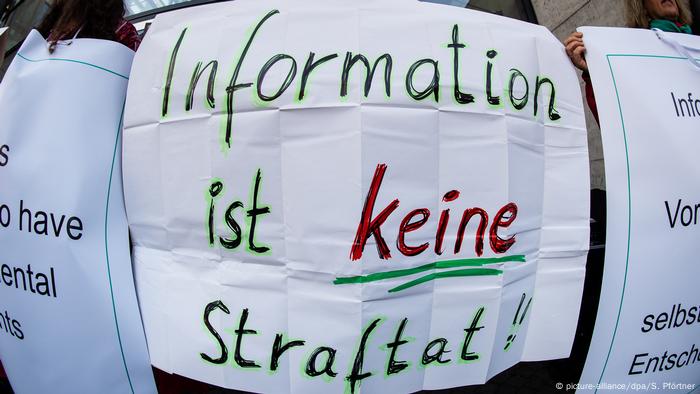 Protesters in Kassel held signs reading: "Information is not a crime!" and "My body, my choice"
Ulle Schauws, the women's policy spokesperson for the Greens, described the case against Szasz and Nicklaus as "completely absurd."
"Doctors like Nora Szasz and Natascha Nicklaus are being criminalized because they are committed and responsible in their work, because they ensure good care for women in crisis situations and because they comply with their patients' right to information," she told DW in a statement.
Schauws, who was present at Wednesday's court hearing, added that in order for Paragraph 219ato be struck down, the center-left Social Democrats (SPD) need to allow for a vote on the matter in German parliament "so that trials like the one today will soon be a thing of the past."
Back and forth over law change
The movement to change Germany's "abortion advertising" law has gained political momentum in recent months, with the environmentalist Greens, the business-friendly Free Democrats (FDP) and the Left party all submitting plans to either scrap or amend the clause.
The SPD, which is in a coalition government with the German Chancellor Angela Merkel's conservatives, also supports changing the law. Merkel's conservative alliance between the Christian Democrats (CDU) and their Bavarian sister-party the Christian Social Union (CSU) will be harder to convince, however, as they strictly oppose any changes to Paragraph 219a.
Listing abortion services on a doctor's website gives the impression that abortions are "something quite normal," which conservatives said they want to avoid, the CDU/CSU's legal policy spokesperson Elisabeth Winkelmeier-Becker told local public broadcaster SWR.
In December 2017, a petition with over 150,000 signatures was submitted to Germany's Bundestag, urging lawmakers to do away with Paragraph 219a.
The doctor who presented that petition was ordered to pay a €6,000 ($6,998) fine last year for including abortions as part of a list of services on her clinic's website.