The year 2016 should be a turning point for the German military, Bartels said while presenting his new annual report in the German parliament on Tuesday.
According to the military ombudsman, the Bundeswehr is facing more diverse challenges than ever before, including its support to the air campaign against the "Islamic State" in Syria, a peacekeeping mission in Mali, the new NATO fast-response unit, and the management of refugees at home.
However, the army is forced to do so with a record low number of soldiers, and outdated and malfunctioning equipment.
"We are short of almost everything," said the SPD politician. "The army is at the turning point. It cannot take more cuts."
Germany currently has 177,000 soldiers, down from some 600,000 at the end of the Cold War. In 2011, Berlin decided to save money by providing only 70 percent of required equipment for some branches of the military, such as armored divisions.
"Today, this planned shortage is jeopardizing education, training and field missions," Bartels told the parliament.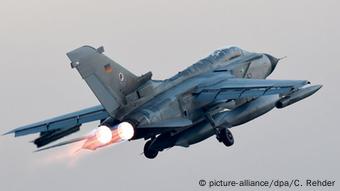 Berlin send Tornado jets to support the campaign in Syria
Bartels urged his fellow lawmakers to fully equip the military and raise the military budget from 1.16 percent of the national GDP to at least 1.2 percent. NATO's target spending level - albeit one that few member states actually meet - is a minimum of 2 percent of GDP.
The army received 33 billion euros ($33.78 billion) from the parliament in 2015, and the 2-billion-euro increase currently planned for 2016 is far from enough, according to the report.
The ombudsman also said that the refugee crisis should not become a "permanent mission" for the army.
Delayed deliveries, plus 'teething problems'
This is not the first report to sound the alarm over the state of the German military. An official account in December listed a number of deficiencies in the German air force, with other sources claiming that less than half of military planes were combat-ready. Last week, the Ministry of Defense announced that Germany could not fly its Tornado reconnaissance jets over Syria at night, due to malfunctioning cockpit lights.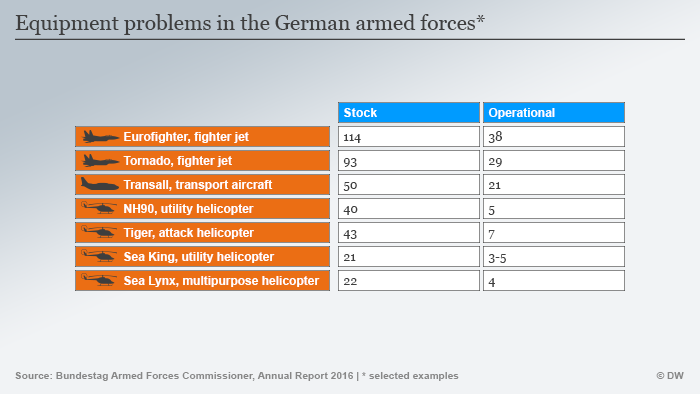 Some soldiers have already received new hardware, but even the upgraded equipment was "all late, delayed, full of teething problems and often too few in number, and at the same time more expensive than planned," Bartels said.
New billions expected
Following Bartels' Tuesday appearance in parliament, reports citing "sources close to the Ministry of Defense" announced that Berlin plans a drastic increase in military spending. Minister of Defense Ursula von der Leyen intends to invest some 130 billion euros ($141 billion) in army infrastructure and equipment over the next 15 years, according to the news agencies.
The federal government is also considering enlisting more soldiers, with a decision expected in March.
dj/msh (AFP, dpa, Reuters)