DW-WORLD: How do you expect Germany to fare in the World Cup opening game against Costa Rica?
Oliver Kahn: Everything's open for both teams, everything's possible. That doesn't mean that the Costa Ricans or the Germans face an easy task. On the contrary, both Germany and Costa Rica will have a tough time winning the game. The opening match is a test of nerves, a unique situation. The most difficult part of the World Cup is the beginning. During the first match the pressure is enormous; during the opening match it's even greater. Of course, luck also plays a role.
What do you know about Costa Rica and Ecuador?
Not much, almost nothing. Both of these teams' ways of playing are virtually unknown in Germany. We didn't have a chance to watch their qualification. We don't get as much information about them as we do about Argentina or Brazil, for instance. We still have time to inquire, to learn what kind of soccer they play, what their strengths and weaknesses are. There's no doubt that we'll know everything we need to know in time for the World Cup. We'll know them both inside and out.
Germany is the favorite in its group. Who do you think will take second place: Costa Rica, Ecuador or Poland?

There's no first, second or third for me -- not so far anyway. We all have to win our games regardless of who we're playing. We have to beat Costa Rica, beat Ecuador, beat Poland. It's only really about making it to the next round.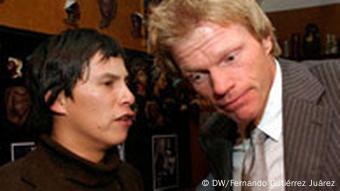 DW-WORLD reporter Daniel Martinez met Kahn in a Munich bar

Are Costa Rica and Ecuador capable of beating Germany?
Anything's possible in the World Cup.
Will Germany become World Champion in 2006?

It's entirely possible. The enthusiasm of 80 million Germans is a very important factor. In the national team you sense that such a goal is doable. I believe we can win the title. I have a lot of confidence in us.

Who will be number one in the German goal at the World Cup?


I have no reason to doubt I will be number one and stand in the goal at the World Cup. Jürgen Klinsmann has said it clearly. I am number one; there's nothing there to discuss.

Why are you so sure?

I know what the pressure's like and how it is to play in the World Cup. I know what's needed to successfully play in a tournament. Such a situation isn't foreign to me, I've already experienced it with the national team and with Bayern Munich. The training staff knows exactly what my contribution is.

Daniel Martinez interviewed Oliver Kahn (ncy)