As soon as it was announced that Iranian political scientist Sadegh Zibakalam would be the recipient of DW's 2018 Freedom of Speech Award, the online protests immediately began.
Social media users criticized Deutsche Welle by launching a #ShameOnDW hashtag campaign. Their criticism: By giving Zibakalam the award, DW was honoring a supporter of the Iranian regime.
Users took offense to the headline in which Zibakalam was quoted as saying he would "take up arms" to defend the Islamic Republic if necessary. The researcher spoke the words in an interview when asked about regime change in Iran. His opponents, however, are calling for just that — a revolution.
Cheap criticism from abroad
But Omid Nouripour, an Iranian-born, Green Party politician in the German parliament, defended the political scientist, particularly against criticism being leveled by Iranians living in exile.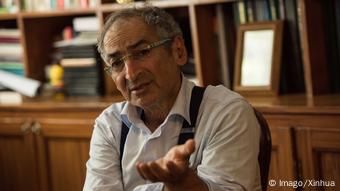 Zibakalam could face up to 18 months in prison
"It is cheap to criticize someone in Iran for being too soft from a safe place abroad," Nouripour said.
He said he is convinced that it was right and a "good choice" for DW to honor Zibakalam with the award. He said that even "in the most adverse circumstances" the political scientist has consistently spoken his mind: "I think it was very courageous of Mr. Zibakalam to say he recognizes Israel."
Zibakalam is not viewed as a defender of the regime at home in Iran. Speaking with DW, he said that, at most, 30 percent of Iranian citizens support the regime. He also rebutted Tehran's claims that protests around the country were being orchestrated by outside powers. As a direct result of that statement, the 69-year-old was convicted as a propagandist by the Iranian Revolutionary Court in March. Should the verdict be upheld, Zibakalam could face jail time and a "social ban" — forbidding him from speaking to the media.
That's one of the reasons Nouripour said he finds it "extremely good" Zibakalam received the award for openly speaking his mind.
"It encourages people who, under great political pressure, dare to say things that are perhaps easy to say abroad but are harshly penalized in Iran," Nouripour told DW.
Critics of Zibakalam find it easy to voice opposition from exile, the lawmaker added. They cannot be punished because they "live in free states governed by the rule of law and not in Iran," said Nouripour.