"I think my crime is that, during an interview with Deutsche Welle, I gave a political opinion which was contrary to the government's opinion," said Sadegh Zibakalam. "When the government says that the unrest was ordered by enemies of the Islamic Republic of Iran, the government expects that everyone follows suit and repeats that opinion."
Threatened by a 'social ban'
But Sadegh Zibakalam didn't do that. In January, the well-known Iranian political scientist spoke to Deutsche Welle's Persian program about the unrest in Iran at a time when tens of thousands of Iranians were taking to the streets to protest against Tehran's economic policies and the entire political establishment. Zibakalam showed sympathy for the demonstrators and contradicted the government's accusations. "I said that it was organized by the Iranian people. It wasn't influenced by anyone outside Iran. No foreign power had any hand in it," Zibakalam said in his latest interview with DW.
Read more: Iran's double standard of justice
Now the 69-year-old faces a possible 18-month prison sentence. Iran's Revolutionary Court ruled against Zibakalam in March. If the ruling is confirmed, the political scientist will not only spend time in prison, he will also face a two-year "social ban." That means he can't give interviews, publish articles, or be active in social networks. Zibakalam has appealed the ruling; a decision is pending.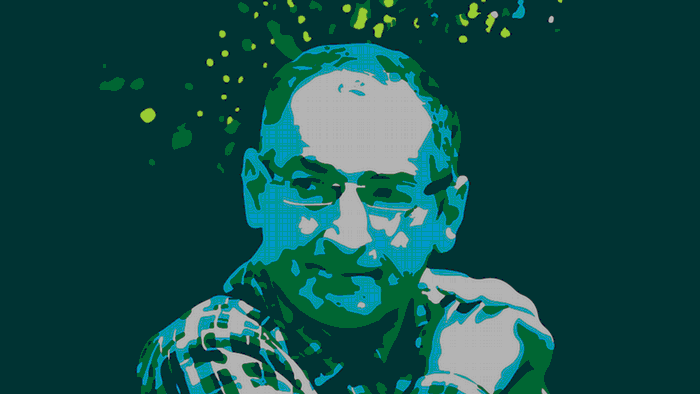 Despite facing a possible prison sentence, Sadegh Zibakalam continues to exercise his right to freedom of speech
Some people might duck and fly under the radar until then, but that doesn't seem to be an option for Zibakalam. The threat of a prison sentence hasn't stopped the political scientist from making critical public remarks on Twitter and Facebook – daily. "If they tell me: Professor Zibakalam, you are not allowed to conduct any interviews, then I would obey. But no one from the judicial organization told me that I should not do this. So I am waiting until the appeal court gives its ruling," he told DW.
'Repeat offender'
The Iranian judiciary sees Zibakalam as a repeat offender. The professor at Tehran University is one of the country's most well-known intellectuals and political experts. Zibakalam is close to the reformists around President Hassan Rouhani. He is famous for the intense debates he holds with hardliners, repeatedly criticizing the government's official stance on domestic and foreign policy matters. In February 2014, he stated that he recognizes Israel as a state because the United Nations does, too.
Zibakalam studied political science at the University of Bradford in Britain, and wrote his doctoral thesis about the Islamic Revolution and the politics of the West. During a visit home in 1974, still a student at the time, he was arrested by the Shah's secret police for sabotage and propaganda. After the Islamic Revolution, he returned to Iran in the early 1980s, and launched his career at Tehran University a few years later. In 2000, he ran for parliament in the city of Zanjan in the northwest of the country – but his candidacy was declared invalid by the Guardian Council.
'I will not remain silent'
The current court case is not the first for Zibakalam. In June 2014, he was sentenced to 18 months in prison for criticizing the national nuclear program. He never set foot behind bars, however, and the sentence was converted into a fine.
Zibakalam is fully aware of the consequences for criticizing the government. But he said he will continue to express his opinion unless the government forbids it. "If I wanted to decide not to talk anymore, I would have done it three years ago when I was charged for expressing my opinion about the nuclear industry, which was contrary to the government's opinion," he said.
For his courageous repeated criticism of the Iranian government, Deutsche Welle has chosen to honor Zibakalam with its 2018 Freedom of Speech Award. "The award aims to encourage civilian society in Iran while at the same time criticizing the government for its decision to persecute Zibakalam for stating his opinion," said DW Director General Peter Limbourg.
"I am very honored," Zibakalam said modestly, adding that there are many Iranian men and women who are more deserving of the recognition. "I haven't suffered a lot for exercising my right to freedom of speech. But there are people who have paid a much higher price."