Eight northern European nations have pledged closer cooperation in an effort to counter a recent increase in Russian military activity in the region.
The defense ministers from the Baltic and Nordic states, as well as Britain are holding military talks in the Norwegian capital of Oslo Thursday and Friday. They agreed to improve intelligence sharing and broaden cross-border air force training in the Nordic territories.
The meeting comes amid fresh NATO accusations of Russia sending troops into embattled eastern Ukraine, a spike in provocative Russian military maneuvers in Europe, and Moscow announcing plans to send bombers patrolling as far as the gulf of Mexico.
Norwegian defense minister Inger Eriksen said all the ministers present at the conference were in agreement that "Russia's actions (in Ukraine) are totally unacceptable and violate fundamental principles of international law."
British defense secretary Michael Fallon accused Russia of "regularly flouting the rules of international aviation" and sending jets on patrols as far west as Portugal and Ireland.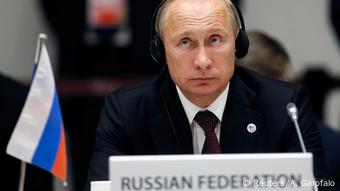 Russian President Vladmir Putin has sought to reassert his country's military might
"NATO has recorded over 100 intercepts so far this year, three times as many as in 2013 and the year is not yet finished," Fallon said at a news conference. "We will not allow Russia to continue to invade our air space."
According to Eriksen, air force training cooperation between Finland, Sweden, and Norway will be extended to include Denmark in order to cover the entirety of Nordic airspace. NATO will also help the Baltic nations of Estonia, Latvia and Lithuania improve their militaries.
Warning time 'reduced to virtually zero'
After Russia annexed Crimea in March, Baltic countries feel particularly threatened by a resurgent Russia. "Military aggression against Ukraine was foreseen by very few policymakers. The warning time has been reduced to virtually zero," Estonian defense minister Sven Mikser said.
Russian President Vladimir Putin recently boasted that Russian troops could invade eastern European capitals within two days if ordered.
"If I wanted, Russian troops could not only be in Kyiv in two days, but in Riga, Vilnius, Tallinn, Warsaw or Bucharest, too," Putin reportedly told Ukrainian President Petro Poroshenko in September.
On Monday, the London-based European Leadership network issued a report finding a sharp rise in NATO-Russian military encounters since the Crimea annexation, and former Soviet leader Mikhael Gorbachev warned recently in Berlin of a new Cold War.
"We are in a new stage of our relationship with Russia, that is very clear," Fallon said. "Russia has stepped outside the framework of international law."
bw/jm (Reuters, dpa)