South Korea's Yonhap News Agency, citing anonymous sources, reported Sunday that a Korean-American man was arrested on Friday at the airport as he was preparing to fly out of Pyongyang.
The man, who was identified only by his surname, Kim, is said to be in his late 50's and a former professor at the Yanbian University of Science and Technology in China.
He was reportedly involved in aid work and relief programs to North Korea.
The Swedish Embassy in Pyongyang, which handles consular affairs for the US in North Korea because Washington and Pyongyang do not have diplomatic relations, confirmed that a Korean-American was recently detained in North Korea, but provided no further details.
However, South Korea's Unification Ministry and its intelligence agency were both unable to confirm the report.
Likewise, the director of a Seoul-based group called the World North Korea Research Center said his sources in Pyongyang had confirmed the arrest.
"The reason North Korea is not saying anything yet is because it is not done with the investigations," said Ahn Chan-il, a former defector.
"It is important for them to hold a US citizen hostage at this point to prevent Washington from carrying out a decapitation of Kim Jong-Un," Ahn said, referring to the North's fears that the US plans a secret military strike to topple its leader.
Others being held
At least two other Americans are being held in North Korea. Otto Warmbier, a 22-year-old from suburban Cincinnati was sentenced in 2016 to 15 years of hard labor after he confessed to trying to steal a propaganda banner.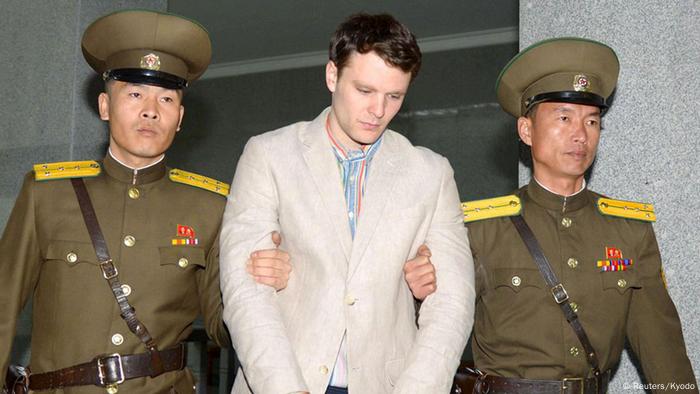 Warmbier being led into North Korea's high court in March 2016
At the time of his arrest Warmbier was a student at the University of Virginia, and was on a tour of North Korea with scores of other westerners.
Another detainee is Kim Dong Chul, who was born in South Korea but reportedly also has US citizenship. He is serving a 10-year sentence for espionage.
At least one other westerner, a Canadian pastor, is also being held in North Korea. Hyeon Soo Lim, who was born in South Korea, was sentenced to life in prison in 2015 on charges of using religion to destroy the North Korean system.
He was accused of helping US and South Korean officials abduct North Korean citizens.
Friday's arrest comes amid rising tensions between the US and North Korea over Pyongyang's burgeoning missile and nuclear programs.
Under leader Kim Jong Un, North Korea has accelerated its programs, carrying out two nuclear tests and some 20 ballistic missile tests in 2016.
bik/rc (AP, dpa, AFP)