The Swedish Academy announced Friday that it was cutting all ties with a high-profile man with links to the institution after a "crisis meeting" called to address sexual harassment allegations by 18 women.
The organization said in a statement that "members of the academy, daughters of academy members, wives of academy members and staff of the academy have experienced unwanted intimacy or inappropriate behavior" by the man.
The unnamed man is not a member of the institute, but is married to a writer with "close links to the academy." He also ran a cultural club showcasing exhibitions, readings and performances by both the cultural elite and hopefuls, including Nobel literature laureates, and was responsible for running an apartment the institute owns in an upscale neighborhood in Paris.
Read more on the #MeToo movement
- Jordanian ex-lawmaker storms off DW program after woman talks about sexual assault
- Hollywood #MeToo march joined by hundreds in protest against abuse
Swedish daily newspaper Dagens Nyheter on Tuesday published testimony from 18 women who claimed to have been sexually assaulted or raped by the man. The alleged sexual assaults occurred between 1996 and 2017, some of them on the premises of the Swedish Academy, according to the newspaper. The women said they remained silent out of fear the man would jeopardize their careers.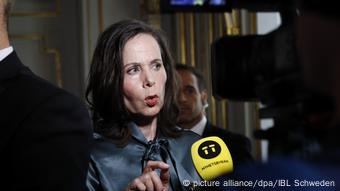 Sara Danius of the Swedish Academy said she was 'shocked and saddened'
The man's name has not been published in accordance with Swedish law on the presumption of innocence, but as a high-profile person in Sweden's cultural scene, his identity is generally known to the public. Speaking with Dagens Nyheter, he has said he is innocent.
The Swedish Academy has hired a law firm to investigate the allegations.
Sara Danius, the academy's permanent secretary, wrote she was "shocked and saddened" over the accusations in a blog post published late Wednesday. Danius said she had "no reason to doubt" the allegations.
The Swedish Academy, founded in 1786 by King Gustaf III, has awarded the Nobel Prize in literature since 1901. This year's laureate was Japanese-born British novelist Kazuo Ishiguro, known for "The Remains of the Day" and ''Never Let Me Go."
dv/cmk (AFP, dpa)