The Siemens group does not know how to rest. Again and again, new business areas are being reassessed for futureproofing, investments are being made and less promising segments of the company sold off.
The lighting company Osram, the household appliance manufacturer Bosch Siemens, chipmaker Infineon as well as a range of telecommunications and network divisions all once belonged to the German engineering conglomerate before being disposed of.
In 2008 there was another large reconstruction of the business. At that time, the group was strategically focused on megatrends and created three sectors in the company: industry, energy, and healthcare. In 2011, a fourth sector was introduced to the expanding business model: infrastructure and cities.
Joe Kaeser was introduced as Chief Executive (CEO) in 2013, replacing hapless Peter Löscher at the top of the company. Over the following four years, billions were spent on acquisitions, sales and a massive restructuring of the group which created turmoil among employees. Kaeser now aligns the group with the growth areas of electrification, automation and digitization, with the previous structure dissolved in 2014.
Siemens CEO Joe Kaeser wants the company's divisions to stay at the cutting edge of technology in their respective business
However, every corporate restructuring leaves employees frustrated and fearing for their jobs, causes costs and upsets operational business. But it can also bring a company foward, believes Daniela Berdolt of the German Association for Securities Owners (DSW).
"The worst thing that can happen to a company like Siemens is that it sticks to production methods and business segments that are either outdated or cannot be run effectively," she told DW.
When the Siemens telephone systems business was sold, for example, there was an outcry within the business community, she remembers, and adds: "In hindsight, this was the only logical step because Siemens's technology is no longer used."
'Conglomerates have no future'
Under Kaeser, the conglomerate has become a holding company — or a "fleet formation" as Siemens says — and the company's divisions are self-determining.
"We understand that conglomerates have no future," Kaeser remarked in August. "The individual Siemens businesses must be able to keep up with the specialists in the industry and be at least as good as their strongest competitors."
Daniela Berdolt describes Kaeser's strategy as an approach that seeks joint ventures or partnerships in which it invests only as a partner or as a holding company. "Whether this is the right strategy, we will know in ten years' time."
Siemens has already made the first steps towards that goal, with areas of its business already completely autonomous. The wind power division, Siemens Gamesa, is already listed separately on the stock exchange, and Medical Technology (Healthineers) is due make its stock market debut in the first half of 2018. The train division will also be listed after the merger with French rival Alstom.
Read more: Siemens, Alstom merge rail businesses to create 'European champion'
With this vision, Kaeser hopes to make Siemens viable in the future. "It won't be the largest or most diversified companies that will be successful in the era of industrial digitization, but those that are best adapted to the rapidly changing market conditions," he said. And indeed, smaller units are able to adapt faster and more flexibly than large corporations.
Crises in individual business lines
Change is afoot at Siemens, with costs and jobs continuing to be cut, despite Siemens making bumper profits again of over €6 billion ($7 billion) in the year to the beginning of November. The focus is now on the profitability of individual company divisions.
The wind turbine manufacturer Siemens Gamesa is not working well. The German-Spanish joint venture has announced 6,000 job losses — around 20 percent of its employees — although its business is booming in Germany. This is expected to change, however, because current business is still benefiting from state subsidies under Germany's old Renewable Energy Law (EEG) which will be substantially reduced as of next year. In view of significantly fewer wind power that will be installed turbine makers, including Siemens Gamesa, are already cutting staff.
Read more: Germany's shift to clean power: fast or slow?
Additional savings will also be made in the gas turbine business. Siemens had been expecting that Germany's shift to renwables and less polluting forms of energy will boost demand for large gas turbines. However, it is now evident that smaller, modular power plants are being built in fossil power plants.
"Today, not only cities but also some villages are building their own energy supply," Kaeser said, adding that the trend towards decentralized energy supply was just beginning to gather momentum. "Large conventional power plants will continue to be built, but their significance for energy supply is diminishing."
This in turn has led to overcapacity and falling prices. As a result, Siemens's gas turbine unit has seen orders falling 41 percent in the third quarter, and profits slump by almost a quarter. Bad news for the 16,000 staff who work in the division. Many of them are now fearing for their jobs, as there will be further cuts including job losses and, in some cases, the closure of entire production sites.
Furthermore, Siemens will also cut several thousand jobs in the process industry, as the company continuously reviews its strategy. "This may include consolidating individual activities if market conditions require this."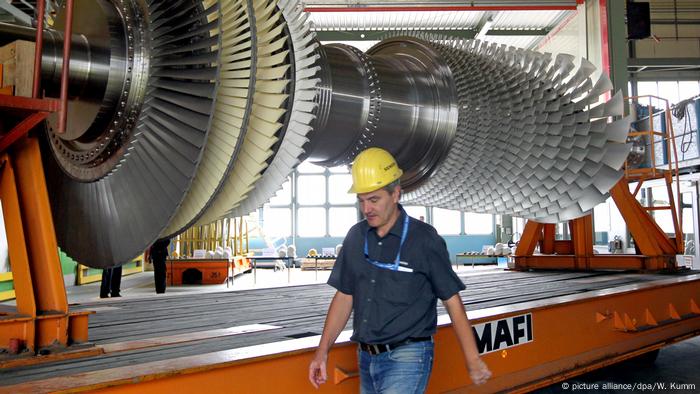 The wind turbine manufacturer, Siemens Gamesa, is losing money as Germany is slashing state subsidies for renewable energy such as wind and solar power
Leaner structure
If Siemens will ever return to an era of smooth running is questionable. Daniela Berdolt thinks the fate of a conglomerate such as Siemens will be that a division in which business is good may experience a "period of solitude" for several years. "But there will also be areas where market conditions change quickly after such a period, putting the entire business in danger," she says, adding that this will always be so because different businesses are subject to different business cycles.
Nevertheless, despite some problems in certain areas of business, Siemens is still a dazzling company. For the new business year 2017/2018, Siemens forecast a slight increase in revenues and also a slightly higher profit — but the group pointed out that its outlook didn't account for the expenses of possible job cuts.
By comparison, the situation at its American rival General Electric (GE) looks significantly more worrisome. While Siemens is making its structure leaner by giving its divisions have more freedom, the US industrial group has diminished from the flagship to the sluggish dinosaur of the US economy.
Read more: General Electric to slice up its empire
But GE too, wants to change. For a long time, the behemoth was regarded as the symbol of the conglomerate, with businesses ranging from railways and chemicals to media and finance. But size doesn't matter anymore. As Siemens CEO Joe Kaeser once said: "A company that is big is never really bad, but also not really good." And so GE chief executive John Flannery too, wants the Siemens rival to focus on its core businesses — aerospace, energy and healthcare — in hopes that they will become the company's cash cows of the future.