Mountain ranges, alluring caves and culinary delights - for tourists, Slovenia is a small oasis. Under the surface, though, citizen anger simmers, and political action is needed to stop the ticking time bomb.
Its economic output has dropped for the last years running. Unemployment has doubled since 2008. The largest banks in the country are threatening to collapse. It's a condition Slovenia hadn't been familiar with until just recently. Of the newest members to join the EU in 2004, Slovenia was considered a role model.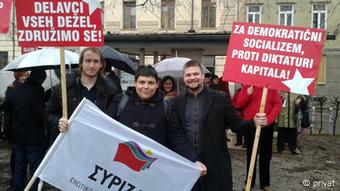 Anej Korsika (right) helped organize protests
"This illusion of Slovenia being a 'success story' was basically shattered," said Anej Korsika, the founder of the "Initiative for Democratic Socialism," in an interview with DW. "Lots of construction companies went bankrupt - lots of workers lost their jobs. In the public sector, wages have dropped in the last couple of years. People are worse off."
At some point the 28-year-old PhD candidate just couldn't take it anymore. He helped organize a mass public protest that brought Slovenian politics to a standstill and ultimately brought down the conservative government of Janez Jansa in March 2013. Though corruption had brought public anger upon the former politician, austerity proved his undoing.
Korsika is anything but satisfied with Jansa's successor. "The new government of Alenka Bratusek has stuck to austerity measures. People's problems are exacerbated," he said.
And recovery is not in sight.
Reform measures
Whether due to conviction or a sense of emergency, the government of Alenka Bratusek intends to combat the crisis with savings measures. Starting July 1, according to plans, value added tax rates will rise from 20 to 22 percent. Additionally, a property tax to be levied next year should provide something of a shot in the arm to empty government coffers.
In the expenses column, roughly 500 million euros ($650 million) are to be saved through government cuts - and, more specifically, through slashing the salaries of public servants.
If that measure doesn't come to fruition, 2014 will see the levying of a "crisis tax" on all income levels, Bratusek has said. Another possibility includes the privatization of telecommunications operator Telekom Slovenija and other state-owned enterprises.
Together, the propositions threaten to widen social rifts within the country.
Political blinders

"There isn't an exact diagnosis of the current situation in Slovenia," says Vladimir Lavrac at the Institute for Economic Research (IER) in Ljubljana, Slovenia's capital. "The appropriate word here is 'complacency.'"
As evidence of such, Lavrac points to protracted problems that he feels were ignored by politicians and experts for far too long. "It became evident that the economy wasn't flexible enough, that structural reforms were put off or weren't carried out," he said. "After [Slovenia's] EU entry and the introduction of the euro, our politicians didn't have any clear goals in front of them."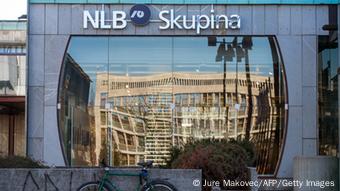 Slovenian banks were sitting on worthless company stakes in the end, Slovenian expert Vidovic said
With cheap credit came problems. In the first few years after Slovenia's EU entry in 2004, Slovenian firms loaded themselves down with debt. Banks, meanwhile, looked for "security" outside the country.
"Slovenian banks invested six billion euros abroad to that end," said Hermine Vidovic, a Slovenian expert at the Vienna Institute for Economic Studies. "During the crisis, a percentage of those companies couldn't pay back their own debts. The banks were basically sitting on stakes in companies that weren't worth anything anymore," she told DW.
Adding to problems is the fact that the banks and many other large-scale enterprises have remained in government hands. "The feeling was, you had to have a strong domestic banking sector," Vidovic said. The Slovenian state continues to own 80 percent of Nova Ljubljanska Banka, Slovenia's largest bank, and another 50 percent of Nova Kreditna Banka Maribor, the second largest.
Surprise twist
Over the last few months, warning bells have begun ringing. The Organisation for Economic Co-operation and Development (OECD) and the EU Commission warned Slovenia to enact reforms in late April 2013. Moody's ratings agency slashed the government's bond ratings to "junk status."
Then came relief. On May 3 the country raised three billion euros in fresh capital through a government bond sale. The injection of cash strengthened the financial system - and the confidence of the government.
"I'm sure that we can demonstrate to Europe and to financial markets that we can solve our own problems ourselves," said Slovenian President Alenka Bratusek in an interview with DW. "I'm convinced that that's the better path for everyone - for our people and for the economy. It's better to take that path on our own, without the Troika."
"For this year, Slovenia can be said to have succeeded in avoiding the EU bailout fund," said economic expert Vidovic. "It's won some time."
Yet the problem continues to be the country's willingness to reform might therefore be put on hold. The risk that the bailout fund will in fact be needed might only have been postponed.