The European Union's special summit on the body's multi-year budget has ended without an agreement. That did not entirely come as a surprise. German Chancellor Angela Merkel and others openly mentioned the possibility upon arriving for the meeting in Brussels on Thursday (22.11.2012). The result is still a disappointment, though.
Now the coming year will bring new efforts. EU Council President Herman Van Rompuy tried to put a positive spin on the negative outcome, saying the discussions "show a sufficient degree of potential convergence to make an agreement possible in the beginning of next year."
Tense climate
Indeed, the proceedings showed how tense the mood in the EU is. In times of economic and debt crisis - with billions in aid handed out in exchange for austerity programs - budget talks proved to be a non-starter.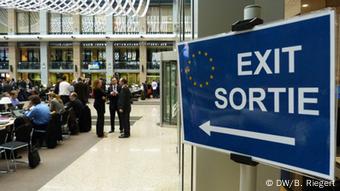 An EU breakup is a distinct possibility
Van Rompuy spent two days trying to mediate, sometimes in one-on-one meetings with leaders, and sometimes in full sessions. The efforts were ultimately in vain.
Van Rompuy's last suggestion provided for a budget of about 1 trillion euros ($1.29 trillion), about 100 billion euros less than the commission's original proposal. But the savings were not enough for some of the contributors - namely, the countries paying more into the EU budget than they get out of it.
Those countries include the Netherlands.
"We save in the Netherlands, we save throughout Europe," Dutch Prime Minister Mark Rutte said. "And Europe also has to make it clear, it is ready to tighten its belt."
Hollande steps forward
Germany, which also contributes to the EU budget, saw things the same way. The country does not only want to save money. Germany also wants to invest funds differently, in areas like the "future fields" of education and research.
France, on the other hand, insists on high agricultural subsidies, which French farmers in particular benefit from. Also, the majority of poor EU member countries in eastern and southern Europe by no means want to accept deductions in regional funding.
French President Francois Hollande tried to present himself as advocate of all the countries receiving funding from the EU.
"I have made sure both that France's interests are defended and that Europe's interests are guarded," he said.
Above all, he views the EU budget as a huge growth program. According to him, in times of crisis, the budget should be especially large.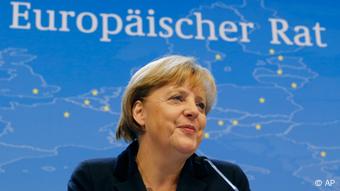 Merkel declared "sympathy for all," sign of a possible new role for the German chancellor
Merkel's new role
France clearly stands on the opposite side of Germany. But no one is going as far with suggestions of savings as British Prime Minister David Cameron. He said the UK along with other donor countries is throwing out its checkbook.
Cameron added that the UK was not making painful budget choices at home only to come to Brussels and approve large increases in European spending.
Still, Cameron tried to emerge from the radical corner where most other countries' leaders had placed him. He saw his UK in the company of Germany, Sweden, the Netherlands and Denmark. Cameron thought that for all of them, the compromise proposed by the end of the summit was not good enough.
No doubt to the astonishment of British negotiating circles, Merkel had sympathy for the UK's position. She took a humorous tone in her closing press conference.
"I first of all have sympathy for my own position," she said. "Then I have so much sympathy for all the other 26 countries, that Germany can afford a good contribution and get a 27th agreement. None is excluded from my sympathy."
After being viewed for months as a strict housekeeper who only wants to imposed discipline on other countries, Merkel seemed to take on a new role at the summit. She even appeared to take joy in it. But it will take a lot of mediating ability, and not from her alone, to bring the different positions together in the new year.