In 1974, the International Atomic Energy Agency (IAEA) predicted that global nuclear energy production would reach 4,500 gigawatts in the year 2000. But by 2010, the actual figure stood at 375 gigawatts.
There's continued interest in nuclear energy in some countries, especially in emerging Asian economies, but far less of the optimism that once surrounded the technology.
"The phase-out process is happening," according to Rebecca Harms, member of the European Parliament and the German Green party. Despite the new nuclear plants slated to be built in the coming years, she believes that "by 2030 or 2035 the number of nuclear plants will have fallen." Nuclear power's golden era is already long over, she said.
'Intentions, wishes and plans'
Last year's post-tsunami nuclear emergency in Japan has thus far done little to temper Asian enthusiasm for nuclear energy, however. India and China have made plans for dozens of new plants and several other Asian countries are keen to expand their nuclear sector. After 30 years of no new reactors in the US, the Vogtle Electric Generating Plant in Georgia is due to be expanded by two reactors. And Poland, long dependent on coal, is diving head first into nuclear energy, with plans to build its first nuclear power plant.
China is still building nuclear power plants
But energy policy experts like Lutz Mez at Berlin's Free University have their doubts. Compared to the construction of conventional gas power plants in the US, the two new reactors are statistically "peanuts," he said.
And Mez says Poland faces some major challenges if it really wants to go nuclear. As an example, he cites Poland's lack of trained nuclear specialists, both in the private sector, and in the public sector, which will need public servants to take on licensing and monitoring duties.
"It normally takes 15 years to establish bodies of authority like this," Mez told Deutsche Welle. "Intentions, wishes and plans do not necessarily mean that the projects can be realized."
Despite increased energy needs in an expanding economy, China's nuclear power plants generate only two percent of the country's electricity. The figures for India are similar.
"There, nuclear power plants only play a supporting role," explained Mez. "They are mostly coal-fired power plants. Every two weeks, a 500-megawatt coal plant gets connected to the electricity grid in China, though in the last two to three years there has been more renewable energy too."
Questions of costs
Even in France, where 80 percent of energy is produced by nuclear plants, Mez said the mindset is changing.
France is due to elect a new president in a few weeks' time. Polls put the Socialist Party candidate Francois Hollande ahead of President Nicolas Sarkozy. While Sarkozy supports nuclear energy, Hollande's plan is to reduce the amount of power it generates in France to 50 percent. According to his party's program, the nuclear plant in Fessenheim, near the German border, will be the first to close.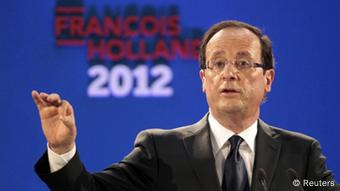 Hollande could make France less dependent on nuclear power
Aside from the much-discussed safety issues associated with nuclear plants, the economic aspect is gaining prominence in debates on the topic. Mez points out that a gas-fired plant is nearly ten times cheaper to construct than a nuclear plant. According to Rebecca Harms, a new nuclear plant costs around seven billion euros.
Moreover, the case of Germany's controversial Asse atomic waste depot - where increased levels of radiation were found - shows the potential costs associated with running a nuclear power plant. The depot, which holds containers with low and medium-grade radioactive waste, is run down, with water leaking into its underground tunnels. Recovering the contents would cost billions of euros and take decades.
Mez believes that "making large investments like this, where there is no certainty of recouping the costs, is increasingly risky." He adds that there is still no sure method of disposing highly radioactive waste and dismantling power plants that have been shut down is more expensive than previously thought. This is why, he says, nuclear energy will not experience a renaissance.
Author: Klaus Jansen / ew
Editor: Holly Fox