The screaming inside Alhaji Deri Kadau's house can be heard outside, on the dusty road. Relatives have gathered to support the family. It is an emotionally charged atmosphere. Children and grownups are in despair. "Dear God, please help us," an aunt shouts. Kadau tries to soothe her to no avail.
"Boko Haram abducted our girls," Kadau said. His 17-year-old daughter went missing in a recent attack in Dapchi. He says herdsmen in the neighboring settlement spotted a truck full of girls. "Some screamed for help," he said. "Others cried."
On Sunday, Nigeria's national authorities acknowledged that 110 girls remained missing a week on from the attack, which was carried out by suspected Boko Haram insurgents.
Like many parents of abducted girls, Kadau is furious at Nigeria's government and its security forces for failing to prevent the incident. Three weeks ago, the military was pulled out of Dapchi town. And, Kadau said, the local police chief suddenly left too, just a few hours before Boko Haram's attack.
In a press statement released before he visited Dapchi on Thursday, Yobe Governor Ibrahim Gaidam said Nigeria's military had managed to rescue some of the girls. But, once he was there, he said that was not in fact the case. Some parents collapsed with despair; others loudly expressed their fury. And, when the governor's convoy left town, it was pelted with stones.
Protesters destroyed a window of the car carrying Yobe's state education commissioner, Alhaji Mohammed Lamin. He still can't understand the violent backlash, saying the government is doing what it can. Lamin does not think that authorities can be blamed for failing to provide adequate security. "We erected a fence around the school and around the boarding school," he said. "We else are we supposed to do?" He added that authorities cannot put each and every school under military protection — "and there already are police patrols near the schools."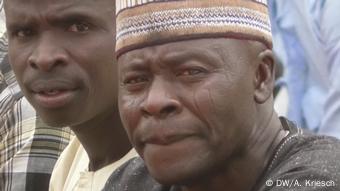 Kadau thinks Boko Haram abducted his daughter Aisha and many other girls
Dismal security situation
There are fewer than 400,000 police officers for Nigeria's population of more than 180 million people. Almost half of them are responsible for protecting VIPs such as politicians, businessmen and other wealthy individuals.
Critics have demanded that the police force be expanded and made more efficient. A recent Afrobarometer survey found that the police force is perceived as Nigeria's most corrupt institution. Sixty-nine percent of respondents said all or most police officers were venal.
Nigeria's military also seems overwhelmed by numerous security challenges. Forces are stationed throughout the country: addressing the threat of Boko Haram in the northeast, hunting oil thieves and criminal gangs in the Niger Delta, and trying to manage growing tensions between farmers and herdsmen in the center of Nigeria. In 2016, the army chief announced that the number of troops would be doubled to 200,000 during the coming years. Despite this announcement and contrary to claims that the army is making progress, Boko Haram is still terrorizing northeastern Nigeria. It has been doing so for eight years.
Efforts to protect children from Boko Haram such as the Safe Schools Initiative also came under fire after the recent Dapchi attack. The initiative was established in 2014, after over more than 200 girls were abducted from Chibok. Nigeria's government had pledged $10 million in funding for the project. Business figures, the United Nations and donor countries also provided money. Now, the security expert Kabiru Adamu said, "the government needs to show where it spent the money." He has urged the authorities to list the 500 schools that are reportedly receiving funding.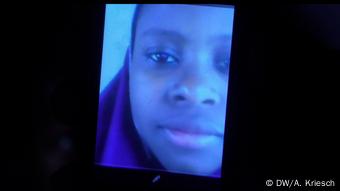 Seventeen-year-old Aisha has been missing since Monday
The dismal security situation has had a detrimental effect on education. More than 10 million Nigerian children do not attend school. UNICEF estimates that 60 percent of these children live in the country's north. And, after Boko Haram's latest attack, the number could increase as security concerns grow.
Kadau's daughter 14-year-old daughter, Hafsat, is now too scared to attend school. Crying, she recalls how she was on the school grounds when the attack unfolded and how she lost sight of her sister as she fled.
Dapchi's school will remain closed for at least a week. The education commissioner expects it to remain shut for even longer. Even if it does reopen and Aisha returns someday, Alhaji Deri Kadau is not sure that he'll send his daughters back to school. "The government doesn't care about the safety of our children," he said.
Each evening at 1830 UTC, DW's editors send out a selection of the day's hard news and quality feature journalism. You can sign up to receive it directly here.