Situated in an office above a music school in Heidelberg's historic city center, the 15 employees of Deutsche Rohstoff are trying to profit from the rising prices of natural resources. The company specializes in reactivating defunct sources of oil, gas, gold, silver, high-tech metals like indium or gallium, and rare earth elements.
An exception in a market dominated by large multinational players, Deutsche Rohstoff has been spending money with essentially no earnings since it was founded in 2006. But it has investors' attention. A recent sale of 320,000 new shares netted four million euros, with industry giants like the BASF chemicals company buying stakes in the business.
Titus Gebel says there will always be projects larger companies miss
"In the long term we want to fill the gap left behind by (former German mining companies) Preussag and Metallgesellschaft," Deutsche Rohstoff executive Titus Gebel told Deutsche Welle. "They were globally situated natural resource companies which could hold their own in the first division – or at least in the second division – during the 1980s."
Opportunity from rising prices
There was a time when industrialized Western countries had significantly more capacity to process their natural resources. In the 1960s, for instance, Germany was Europe's largest producer of oil. As procurement from Africa and Asia became cheaper, oil prices dropped and domestic facilities were closed.
Gebel, however, believes the rising cost of natural resources will make Europe's own deposits profitable again. His company is betting on increased demand, which he's sure is more than a temporary trend.
"Because of the economic developments in China and India, the natural resources sector is experiencing what's called a super-cycle – there will be a boom in the next 20 years."
Europe's political stability is another factor to be taken into account. Many of the countries which have supplied the global economy with relatively inexpensive natural resources over recent years are politically volatile. And those that are stable will increasingly choose to keep their resources for domestic production.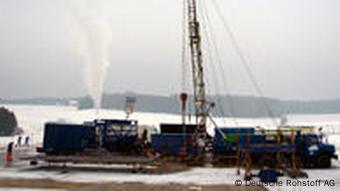 As resource prices rise, Europe's political stability will be a valuable asset
China, for example, used 8 percent of the world's demand for metal 16 years ago. Today it uses up to 25 percent.
"Representatives from our industry are unified in their opinion," Gebel said. "If growth in China and also India and Brazil continues the way it has been so far, then in the next 25 years we will need to mine as much metal as we have in the combined history of mankind."
Spending without profits
Investors seem convinced by Deutsche Rohstoff's logic. The company went public in 2010, and its stock price has risen by 35 percent. But where are the profits? Thus far Deutsche Rohstoff has primarily been investing in identifying investment opportunities and securing the rights to natural resource deposits.
In October it started production at the Georgetown Gold Mine in Australia, which is owned by a subsidiary company. The first batch of gold bars are due to be processed by December and should see the project turn a profit by the end of this year or the next.
Rhein Petroleum – another affiliated company with oil and gas projects throughout Germany – is also expected to generate its first revenues in 2011, or 2012 at the latest.
When Deutsche Rohstoff picks a project, it is careful to make sure that production can be started as quickly as possible, according to Gebel.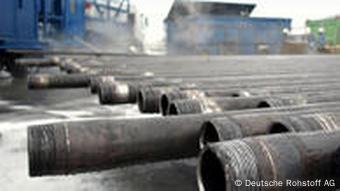 Deutsche Rohstoff picks projects which can be reactivated quickly
"We look at deposits which were prospected in the past and calculate out whether modern technology and higher prices make it worthwhile," he said. "That way we can drastically shorten the time which customarily exists in mining between prospecting a deposit and beginning production."
Not afraid of big competition
The basic idea behind Deutsche Rohstoff isn't just convincing to individual investors, it seems. Exxon Mobile is on board along with Glencore, the world's largest supplier of raw materials, and Wintershall, Germany's largest oil and gas trader.
Gebel insists he isn't concerned about being squeezed out by from industry giants. Even with their combined forces, there will always be locations licensed for prospecting that major corporations won't get around to, he says. So now small companies are cropping up around the world with plans to mull through archives in search of viable projects which are too small for their enormous counterparts.
One advantage Deutsche Rohstoff has is good industry contacts and the historic division of Germany into a capitalist and communist states.
"It's very interesting to note that in the area which used to be the former GDR (German Democratic Republic), the countryside is perforated from where the GDR was searching for uranium and other natural resources," he said. "And we can draw on that information today."
"We've had access to GDR data. We knew it existed – but that wasn't common knowledge internationally."
Author: Insa Wrede (gps)
Editor: Sam Edmonds