The invasion of German troops in some of its colonies in Africa in the early 20th century has been overshadowed by the horrors of World War II in Germany. Nevertheless, the colonial era remains one of the dark chapters of German history.
Germany only officially recognized the genocide of the Herero and Nama ethnic groups in present-day Namibia in 2015. Reparation demands have however been rejected on several grounds.
The German Empire was one of Europe's colonial powers, ruling over large territories in Africa and the Pacific from 1884 to 1919. After Germany lost World War I, its colonies were taken into custody by the League of Nations, the forerunner of the United Nations, that in turn passed on their administration to other European colonial powers.
Read more: Why a German museum is exploring its colonial past
African cultural goods kept in German museums
During Germany's colonial era, numerous artworks and cultural goods were brought to anthropological museums in Germany.
How should present-day Germany deal with these items? That has become a controversial debate which Berlin's future Humboldt Forum wants to present.
Numerous museums across Germany have initiated a dialogue on the issue, among them Hamburg's renowned Museum of Anthropology.
Next year, it plans to exhibit historical photos from former German Southwest Africa that have been in the possession of the museum since 1927. The exhibits depict German soldiers, colonial administrators, researchers and settlers. The exhibition's objective is to take a new look at German colonialism. Next to the photographs, works by contemporary African artists grappling with colonialism will also be shown.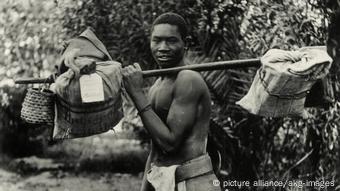 This photograph of 1898 depicts a mailman in Windhoek
This year, Berlin's Academy of Arts is also focusing on colonialism with three big symposiums. "We can only develop new sustainable future perspectives if we critically deal our own history," Johannes Odenthal, the program head of the academy, told German press agency dpa.
"Development aid to poor African countries should not only aim at preventing new waves of refugees streaming into Germany, but also at developing a new relationship and a dialogue on an equal footing."
Read more: Facing Germany's colonial heritage: It's 'detective work'
Calls for international guidelines
Promoting dialogue and cooperation with African countries is also the objective of Hermann Parzinger, the president of the Prussian Cultural Heritage Foundation, who also co-founded Berlin's Humboldt Forum.
If the 1998 Washington Declaration deals with cultural goods stolen by the Nazis, as well as their restitution to original owners and their heirs, no such effort has yet been undertaken for cultural goods stolen during the colonial era.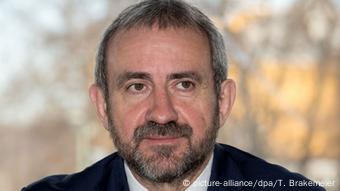 Hermann Parzinger, president of the Prussian Cultural Heritage Foundation
As Parzinger argued in a recent article in the German newspaper Frankfurter Allgemeine Zeitung, such guidelines are also necessary for dealing with Germany's colonial heritage.
The problem is an international one that concerns European states in particular, which is why they need to find a common solution with binding guidelines in order to solve it, explained Parzinger.
Parzinger also proposed to include former colonies in provenience research, as well as to organize international conferences and joint exhibitions by European and African museums. "Joint efforts to tackle the topic might lead to loans, and even to the restitution of items."
rey/bb/ad (with dpa)