The 1962 film "Lawrence of Arabia" made this vast, 74,000-hectare desert in Jordan famous: Wadi Rum's red and gold sands is where the real T.E. Lawrence stationed his troops during the Arab Revolts of 1917 and 1918.
Almost a century later, the landscape is essentially the same: in the blistering sun, sweeping sands cut a valley into towering mountains of sandstone and granite rock.
Now, there is a new intruder - four-wheel-drive tour groups. Traveling up to five cars at a time, the oversize vehicles churn through the sand and mud, making deep tracks and plenty of noise.
Wadi Rum director Nasser Al Zawideh is a local Bedouin who was born and raised there. "Our major problem with the travel agencies is that they don't understand Wadi Rum, because we have a huge number who use the cars," he said. "Just between the village and the nearest site there are more than 100 roads."
Lines in the desert
According to recent figures, more than 250,000 tourists come to Wadi Rum every year. Numbers have dropped since the Arab Spring in the region, but they are expected to rise again in light of the site's UNESCO world heritage status, granted in 2011.
Due to the remoteness of the desert's location, most tourists have just a two-hour window to experience the unique rock formations and desert landscapes of Wadi Rum, so they choose a four-wheel-drive rather than a camel to see as much as they can. Some 1,000 such motorized vehicles are available for hire in the area, Al Zawideh told Deutsche Welle.
There is no plan on limiting the number of visitors, or better distributing them in the area. The question, says Al Zawideh is: "How can we convince the visitors to use the camels rather than the cars?"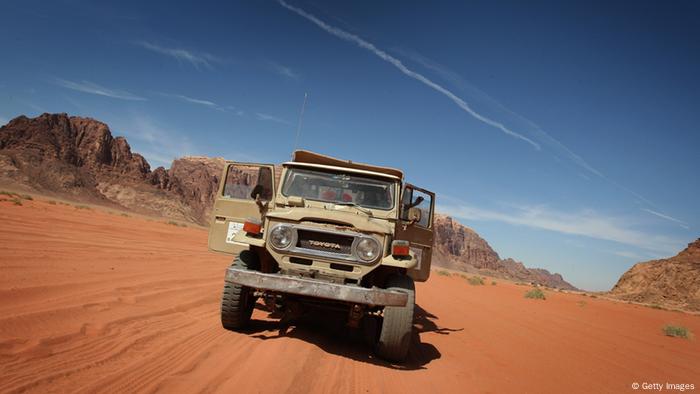 Jeep tours are popular, but not as environmentally friendly …
The Aqaba Special Economic Zone Authority, which is responsible for Wadi Rum, has earmarked 250,000 Jordanian dinars ($350,000 or 273,000 euros) for a new desert conservation plan. The plan's main focus is to make the current split of Wadi Rum into an intensive-use area of 200 square kilometers (77 square miles) and a wilderness zone of more than 500 square kilometres (193 square miles), more official.
Protecting rare species
The intensive use area will be exclusively for the Bedouin tourist camps and four-wheel drive activity, while the wilderness zone is reserved for those hiking on foot, or riding a camel or horse. A single road will be gravelled for four-wheel drive use, in order to prevent the vehicles from damaging more than 360 rare species of flora and fauna on makeshift tracks.
Development within the intensive-use zone would be regulated to protect the interests of local Bedouin who depend on tourism, and waste would be managed in a more sustainable manner to cope with increasing tourism numbers.
Giving Wadi Rum a more environmentally friendly image is quite a challenge to, Al Zawideh said. "We have a lot of meetings with UNESCO in Amman. This is a huge job for me and my team, but we're working on it."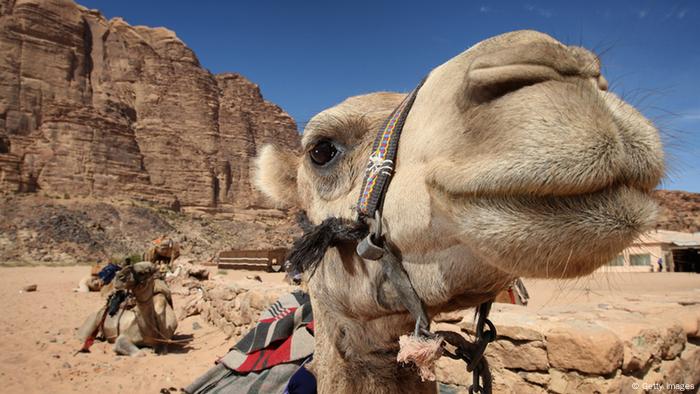 … as a leisurely camel trek through the desert landscape
Animal life would also benefit from a new environmental focus. The Arabian oryx was hunted to extinction in Wadi Rum 80 years ago. Three years ago, the Abu Dhabi Environment Agency sponsored a $ 1.1 million project to reintroduce the animal to the unique desert. Eight male and 12 female oryx were brought to a protected enclosure in Wadi Rum.
Return of the oryx
The project has been a huge success. Today there are more than 60 oryx, it is hoped that the first animals will be released back into the wild this year.
Local Bedouin ranger Aesh Ali Alzalabiah says reintroducing the oryx to Wadi Rum and protecting the desert environment is essential in order to preserve it for future generations. "Wadi Rum is one of the most beautiful places around the world, where you can feel the silence and the nature," he says. "It's a simple place, not like other places like Petra or Jerash, the other places that are human-made. Wadi Rum is natural."
Officials and desert caretakers need to remain vigilant, Friends of the Earth Middle East director Munqeth Mehyar said. "Our sites are delicate, from Wadi Rum to Petra to the Dead Sea," he said, adding that it is important to study the carrying capacity of these sites well in advance of opening the door to tourism. Mehyar urged a study on the carrying capacity for the desert ecosystem.
While it is uncertain whether such a study will occur in the next few years, conservation efforts in Wadi Rum are slowly improving. This is something of which Lawrence of Arabia would surely have been proud.