Fingers flying over the frets of his Spanish guitar, Nour Amoura is a study of concentration and rhythm as he accompanies Syrian saxophonist Mohammed Diab in a wood-paneled container in a Copenhagen park. The two men used to play together in Damascus before escaping the war and applying for asylum in Scandinavia - Diab in Sweden and Amoura in Denmark. They're rehearsing with a view of re-launching their careers in Europe. And until they start being hired for gigs, they have the financial cushion of welfare benefits to keep them afloat.
But from September 1, Nour Amoura will be the substantially poorer of the two, as a new law designed to dissuade refugees and migrants from travelling to Denmark comes into force. The legislation, drafted by the new center-right minority Liberal government, under pressure from the anti-immigration Danish People's Party, inflicts a cut of 45 percent in the benefits given to new arrivals.
Single adults like Amoura will now be given the equivalent of a student grant - 5,945 Danish crowns (800 euros; $890) per month - down from 10,849 crowns.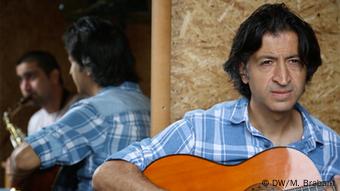 Amoura, who fled Syria, is trying to make a new home in Denmark
"I'm sad," says Amoura. "This wouldn't have happened in Sweden or Germany. I want to work, I haven't come to Denmark to sleep. But I need some help at the beginning. It's difficult."
Government bows to far-right
It's too early to determine whether the benefits change will have the impact desired by the government and its supporters. But Denmark's hard-nosed reputation does appear to be convincing asylum-seekers to look elsewhere for a new home. Figures for the first seven months of the year show applications for refugee status are down to 5,174, a decrease of 7.52 percent.
"That pleases me," says Martin Henriksen, integration spokesman for the Danish People's Party, which decided not to join a coalition government despite achieving second place in the general election two months ago.
Most political analysts argue that the DPP is dictating government policy in return for supporting the administration in Parliament.
"In the past we have taken a lot of refugees in Denmark. And we've come to a point where we have to say enough is enough. We can't take any more. We can't handle this type of immigration. It's too heavy a burden on a small country like Denmark. So let's just step on the brake."
High cost of living
The move has dismayed Johanne Schmidt-Nielsen, the leader of Denmark's left-wing Red-Green Alliance opposition party. "I think it's a big step back for integration, because making people poor doesn't help the integration process," said Schmidt-Nielsen at a Copenhagen rally where 2,000 people demonstrated against the new measures.
The Danish Refugee Council also considers the move to be a retrograde step.
"Although it might help motivate people towards getting a job, the most worrying thing is that it will cause poverty among refugee families," says Andreas Kamm, the Council's secretary general.
"In a society like Denmark, if you should have success with your integration, you need relations with other people. Where and how are you with other people, when you play football, when you invite people to birthdays, whatever? All these activities, especially for the children, are costly in Denmark. And I'm concerned that refugee families cannot pay for these activities and therefore cannot build up relationships in society, which is a precondition for a positive integration process."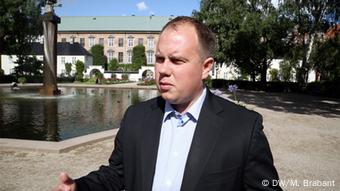 Henriksen and his party want to asylum-seekers to go elsewhere
But Henriksen is unrepentant.
"As long as they [refugees and migrants] can see a future in Europe, they will keep on coming. We have a job. And the job is to tighten the rules so the human smugglers and the asylum-seekers can see that the future is not in Europe or in Denmark. I think it's right that when you come to Denmark you earn the right to benefits, so you have to be on the work market for a couple of years or live in Denmark so you have the same rights as a Danish citizen."
Organizations like the Red Cross and Refugee Council want there to be a coordinated European Union policy of solidarity towards the asylum seekers and migrants, 300,000 of whom are thought to have entered the EU so far this year. But they fear that other countries will follow Denmark's lead and will divide Europe still further.
The Danish government, however, is considering further measures to make their nation of 5.5 million less attractive. These include making it more difficult for refugees to bring their families to Denmark and also making it harder to obtain citizenship.
Worries among refugees
These new plans have alarmed a businessman from Latakia, the hometown of Bashar al Assad, Syria's president.
The businessman, who did not wish to be identified, has just arrived in Denmark, after travelling through Turkey, Greece, Macedonia, Hungary, Austria and Germany. He is staying in a reception center in Helsingor, north of Copenhagen, while his application for asylum is being processed. He left Syria because various militia groups kept demanding money for the war effort.
His wife and two small children remain in Latakia, and the soldiers have warned her that if her husband does not reappear soon and pay his dues, the children will be kidnapped. "I'm terrified about what is happening," he told DW.
'Give and take of globalization'
In Copenhagen's New Square, at the demonstration against the new law, Syrian men granted asylum danced in a circle to pulsating Middle Eastern music alongside Danes sympathetic to their cause.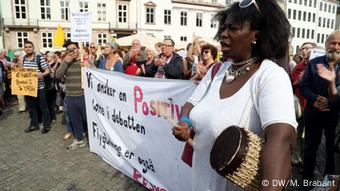 Left-wing politicians and refugee advocates are concerned that the cut to benefits will make it harder for newcomers
Some wore T-shirts saying: "Thank you Danish people for your support."
The scene was gratifying to speaker Flemming Jensen, one of Denmark's most prominent actors. But he added, "I'm actually rather ashamed about it [the new benefits law], because we never used to be like that. There are lots of people who don't agree with the government's approach to global problems. Globalization is upon us. We cannot fight that this is going to be a multi-cultural society.
"We were so fond when we could all get our shirts done cheaper in Asia and enjoyed that we could jump on airplane and fly to anywhere in the world. Now anyone in the world can fly to us and we didn't count on that."