It's the same country - and yet a different world. About two weeks ago Cardinal Rainer Maria Woelki said goodbye to his former archdiocese of Berlin. On Saturday (20.09.2014) he took up hisnew duties in the Archdiocese of Cologne. The job description is the same. But the differences - and stark contrasts - between the Catholic diocese on the River Spree and the one on the Rhine are readily apparent.
The diocese in the German capital was essentially bankrupt 10 years ago and was supported financially by other dioceses. But in 2014 it had income of around 100 million euros from church tax, which the German government collects on behalf of the Catholic and Lutheran churches from their members. Its counterpart in Cologne expects a church tax gross of around 785 million euros - almost eight times as much.
Berlin is about five times as large as the 1,700-year-old Archdiocese of Cologne, but only 6.7 percent of its people are Catholic. By contrast in Cologne, just over 40 percent are registered Catholic.s For many, the Catholic Church in Berlin brings to mind houses of worship that are falling apart, and charity work from soup kitchens to homeless shelters and assistance for refugees. In contrast, the first thing most people associate with the Archdiocese of Cologne is the sublime Cologne Cathedral.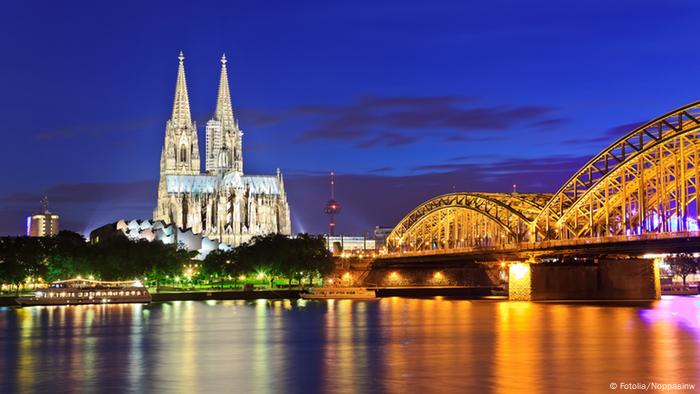 Woelki's new workplace: Cologne Cathedral
Closer to the poor
And somehow Woelki is now supposed to overcome all of these contradictions in the 13 days between his two posts. With his decision, Pope Francis made it clear that he trusts the now 58-year-old with this balancing act. He is thus sending a signal to the most important German diocese.
In recent years, the future top man has made a name for himself on social issues and has called for more closeness to the poor. In his new job, he can attract and appal - traits long thought to be held by Cologne Catholics. However, the archdiocese lost or alienated lost many members under the decades-long rule of Cardinal Joachim Meisner.
Even as a cardinal, Woelki acts more like a simple priest. "I try not to forget my roots, that I come from relatively modest circumstances, and that we lived relatively modestly. I just try to maintain this lifestyle," he told DW.
Serious, full of life, influential
In Berlin Woelki lived in a flat in the relatively poor district of Wedding, among kebap shops and soup kitchens. You would frequently see him about town on his bicycle or taking public transportation.
And that was before Pope Francis talked of the need for modest living. "I make my own breakfast, do my own shopping, I just try to do what everybody else does," Woelki said.
Woelki is known to be serious and full of life at the same time. When Pope Benedict XVI made him cardinal during the carnival season in 2012 - he was the youngest cardinal at the time - Woelki was happy to sing carnival songs from his native Cologne at the reception that evening.
For years Woelki, who served in the armed forces before he started his theology degree, served alongside his predessor, Cardinal Meisner, as auxiliary bishop. In the summer of 2011 he was promoted to archbishop of Berlin, which came as a surprise to many. A year later, he became cardinal.
Woelki is now one of the most important figures in the Roman Catholic church in Germany. The fact that Cologne is one of the richest archdioceses worldwide gives him yet more clout, although Woelki gives the impression that titles and other formalities are not his cup of tea.
Cutting his teeth in Berlin
In Berlin Woelki practiced ecumenical Christianity and was known to talk and listen to people from other religions. He is also known to be relaxed with politicians, including with Berlin Mayor Klaus Wowereit who is homosexual and Catholic.
Woelki, who is also the president of the Commission for Charity of the German Bishops' Conference, does not shy away from political discussions. He has repeatedly called for a more humane way of dealing with asylum seekers, and he has criticized child poverty in Germany.
In the poor Berlin district of Neukölln, he made sure that a real estate company owned by the church took over dilapidated, but overly expensive blocks of flats to house hundreds of Roma.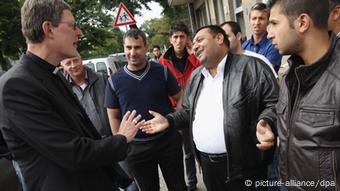 Woelki talking to Roma in Berlin
"Christianity is also political, there's no way around it, so we have to get involved," he says.
Woelki is Catholic, but not rigidly so - he does not categorically reject homosexuality or marrying again after a divorce. It may help him in Cologne, as people from the Rhineland region are known to mistrust anyone who is too strict and tries to impose too many rules.
Church in motion
"The church must be prepared to embrace constant reforms," Woelki told DW. "It should be measured against the origins of the gospel."
The church, he believes, must always side with people in need. "The pope is a good example and a challenge because of how he achieves that."
Woelki often had a meal with people in soup kitchens in Berlin, so the people of Cologne may well spot him in one in the near future.
And although the Catholic church has plenty of venues to hold a news conference, Woelki chose to hold his first official media event in his old neighborhood on the other side of the river, often called the "wrong side of the Rhine" in Cologne. He also did not want a present, but called for donations for a Roma project in the western city of Wuppertal instead.