For generations, France's leading cathedral has been ringing in masses and Christian holidays with what some experts unkindly call the most discordant bells in Europe. Now, the arguably ear-deafening clangs are in the dustbin of liturgical history.

On Saturday (23.03.13) the heart of Paris went silent as, for the first time in more than two centuries, nine new bells and one old one pealed out from Notre Dame Cathedral.

Some listeners, like San Francisco tourist Faith Fuller, were moved to tears. "They made me cry," Fuller said to DW. "This is 850 years of history of a fantastic cathedral, and I'm here in an historic moment, hearing the bells ring for the first time. It's emotional for me, and beautiful."

A children's choir sang at the bells' inauguration in a ceremony. They were presided over by government officials and Roman Catholic clergy who said they hoped the bells would offer a melodious counterpoint to the city's traffic and bustle.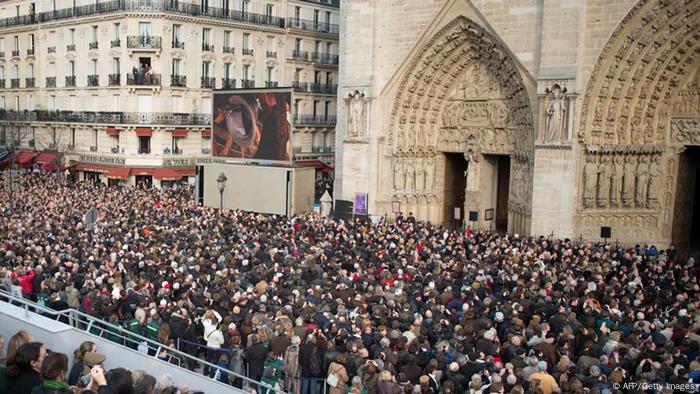 Thousands gathered to hear the bells' first ringing on a sunny spring day

Old versus new

Notre Dame's original bells were destroyed during the French revolution, melted down to make cannons and coins. Only one survived: the 13-ton Emmanuel. Only Emmanuel has remained in the new line up.
The others - all newcomers and each named after a religious figure - are now hanging from the cathedral's belfries. They include a second large bell called "Marie," which was cast in the Netherlands in 2012 in the same tradition as Emmanuel. The other eight smaller bells were cast in the Normandy foundry of bellmaker Paul Bergamo.

"The idea of this project was to recreate a set of bells which were as great as the ones that existed before the French revolution," Bergamo told DW. "It was not to recreate an old-style set, but a 21st century set of bells."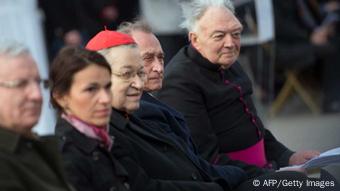 Andre Vingt-Trois (red hat) sits between France's culture minister (left) and Paris' mayor (right)
Beyond church ceremonies, of the 19th-century bells that were replaced had previously been rung for coronations and at the end of the two world wars. But bell experts joke that their clangs were so ear-shattering that Quasimodo, the famous fictional Hunchback of Notre Dame, went deaf as a result.
Bergamo's new set of bells sounds dramatically different - but he remains diplomatic about the bells that preceded his own.
"You can always find bells that sound worse," the bellmaker said. "If it was for a medium-sized church lost in the countryside, maybe it could have been acceptable. But for the first church of France to have a set which is not one of the best in the country is not acceptable."

Who's in charge?

Replacing them, however, has not been easy. Because of France's 1905 law separating religion and state, the bells are the property of the French government - and not the Catholic Church.

"That's probably why it took so long to replace these bells," Bergamo says. "It just wasn't a priority of the state to replace [them]."

To get things going, Notre Dame decided to take charge of the project, working in collaboration with the state. Bergamo's foundry began crafting the eight smaller bells in February 2012, relying on years of historic research and modern-day computer modelling.

The Cathedral displayed the new bells last month, before hanging them up. More than a million visitors flocked to see them, many touching their massive bronze forms that were blessed by French Cardinal Andre Vingt-Trois.
One of the new Notre Dame bells is dedicated to the former pope Benedict XVI

Ringing in Unison

Crucially, the bells were forged to be in tune with the one remaining original bell, Emmanuel, which sets the musical foundation. Rung together, Bergamo says, the bells become much more than the sum of their parts. "When you do a project of bells, it's like evangelization, because it unites people," Bergamo said. "It's a human project. And I think people, believers or not, need these kinds of projects to go ahead, to progress."

Listening to the bells now ringing out, Parisian Patrice Birot agrees that the new bells bring people together. "I definitely think the role of the bell is to gather people at one point in time," Birot said. "It's like a French 'prise de conscience'- becoming aware of what is happening."