"I have dozens of friends that have been arrested, a student who died was my friend," Youssef Salhen, a 21-year-old student at Al-Azhar University, told DW. "There are hundreds of martyrs across Egypt, thousands in jail, and there are many people like me, people who are not going to stop until we reach justice and freedom."
As a security crackdown has largely crippled protests on the street, a new battleground between anti-regime protesters and the government has emerged at universities across Egypt, one of the last remaining spaces where opponents of the military takeover have been able to organize.
And as authorities have responded with a heavy hand, it is stoking fears that student freedom and the independence of universities are at stake.
"The police, the army, they know that it's easier to organize inside the university, and if they can, it's possible that it could have a ripple effect outside the university," Amira Abd El Hamid, a researcher in the academic freedom and student rights program at the Association of Freedom of Thought and Expression, an Egyptian NGO, told DW. "Even if they aren't the main catalyst, history has proven that student movements can move things forward."
Shortly after the beginning of the academic school year when near daily anti-government protests began, authorities moved swiftly to try to quell protests. Police began guarding universities from outside school premises and university officials were authorized to ask police forces to intervene, powers that had previously been banned. On November 20, the government went a step further when cabinet granted security forces the power to intervene on campuses across the country without a warrant or school approval.
"It gives the wrong statement to the students, everyone will take it as a way of the police on campuses, whenever they want, to be able to arrest anyone when they are doing anything they don't approve of," Ahmed Morsy, a nonresident research associate at the Carnegie Endowment for International Peace, told DW.
Recruiting ground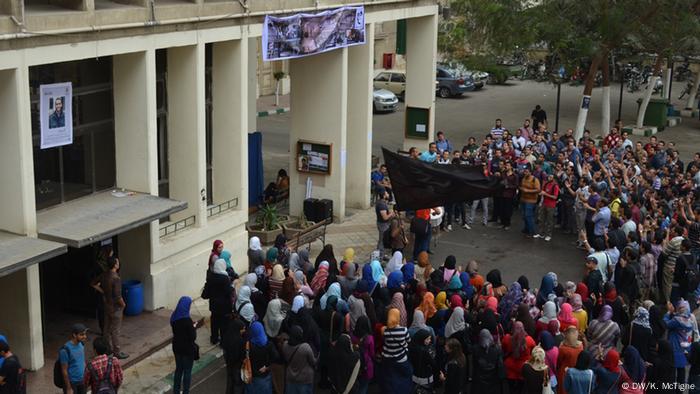 Universities in Cairo have been the scene of intense protests
Nowhere has the confrontation been more intense than at Al-Azhar University in Cairo, one of the Muslim world's leading religious learning establishments, where many students are supporters of the Muslim Brotherhood.
"The Brotherhood's supporters wish to keep up the pressure on the new regime; they have a significant basis of support in al-Azhar," Nathan Brown, a scholar of Middle Eastern law and politics at George Washington University, told DW. "All of Egypt's universities were recruiting grounds for the Brotherhood, but the support was particularly strong at al-Azhar."
On November 13, 12 students at Al Azhar University were sentenced to 17 years in prison on charges of attempting to storm the headquarters of the university, inciting riots and attacking school employees and security personnel, as well as destroying public and private property. The sentence was widely condemned by both local and international rights groups as unusually harsh and further emboldened student protesters.
At a protest on November 21, after police fired tear gas and shot pellet bullets at protesters at Al-Azhar University, Abdel Ghany Hamouda, a sixth-year medical student at the university was killed. Students who were with Hamouda when he was killed said he had suffered from tear gas suffocation and was recovering in a field hospital set up inside the university's dormitory when security forces stormed the building and shot him.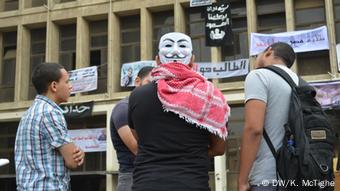 Anti-government sentiment is growing among students
Whose side are you on?
But while anti-government sentiment has been strong at the grassroots at the universities, students have accused school officials of siding with authorities. At Al-Azhar University, much of this resentment has been focused on the school's religious leader, Grand Iman Mohamed Ahmed el-Tayeb, who endorsed the military coup on July 3.
"Our university has specifically been angry at the Grand Iman, to allow the police forces into the building. We are close to Rabaa and know what happened there," said Salhen, referring to the Rabaa al-Adaweya mosque, just walking distance from the campus grounds and the site of the former protest camp dispersed by security forces in August that left hundreds dead and triggered days of turmoil. "He allowed this, he asked the police force to do such things, and now we have hundreds of students in jail, our friends were killed."
School authorities have denied the allegations, saying in a statement that moves like the decision to ban protests and call on security forces to intervene were necessary in response to violent attacks from the students that targeted the Grand Iman and other university officials.
Grassroots growing
But beyond the protests at Al Azhar University which are seen as predominantly Islamist-driven, demonstrations have gripped universities across the country. And many students say it is a growing third segment that is propelling the student protests, one which is denouncing the regime without denouncing Morsi's ouster.
"There are Muslim Brotherhood supporters, then there are army supporters, and then we have people in between, who took to the streets against Mubarak, who took to the streets against SCAF(Supreme Council of the Armed Forces - the ed.) and who took to the streets against Morsi," said Mohamed Soliman, head of al-Midan Student Group, the student office of the Al-Dostour Party - the political party founded by Nobel peace prize laureate Mohammad ElBaradei. "We aren't idolizing [army chief] Sisi, we aren't supporting the Muslim Brotherhood and we are an important block and we support what the students are protesting right now."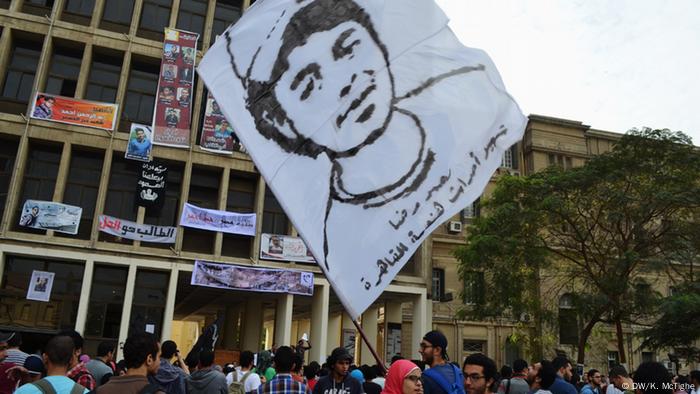 Students fear that their protests are being hijacked by the Muslim Brotherhood to further their own cause
Their protests were galvanized last week when Mohamed Reda, an engineering student with honors at Cairo University, was shot and killed on campus by police during an anti-regime protest. But while Soliman and his colleagues say the protests were meant to focus on condemning the interior ministry, who the students blame for Reda's death, they fear the Muslim Brotherhood and its supporters are attempting to seize on their protests. At the same time the government is accusing the Islamist group of sowing the unrest at universities.
"They try to say all protests are anti-coup, which is not true. We are protesting against the ministry of interior for the violence at universities, it has nothing to do with overthrowing Morsi," said Soliman. "The Muslim Brotherhood supporters set a cop car on fire, they headed to Tahrir Square, they caused the violence."

"They are trying to hijack our protest," he said.