Israeli Prime Minister Benjamin Netanyahu launched Monday a two-day trip to Greece, signaling a warming of relations between the two countries, at the same times as ties deteriorate between Israel and Greece's traditional rival, Turkey.
Netanyahu's visit to Greece, the first by an Israeli head of state, was preceded by Greek Prime Minister George Papandreou's groundbreaking Israel visit three weeks ago.
While Israeli media have touted the visit as a sign of rapprochement, there are speculations that Israel may be strategically courting Greece in order to replace its strained ties with Turkey.
Deutsche Welle Radio's Athens correspondent, Jannis Papadimitriou said that, before Greece, Israel had "already started warming its ties with other traditional rivals in southeastern Europe - for example, with Bulgaria and Cyprus."
Papadimitriou added that, "in the last months after Turkey closed its skies to Israeli military aircraft, everything happened very quickly" between Israel and Greece, which did not recognize Israel's statehood until the early 1990s.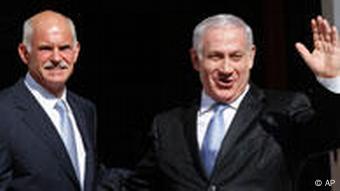 No Israeli head of state has visited Greece before
Walking a diplomatic tightrope
Both Israel and Greece have distanced themselves from speculations that they are forming an alliance against Turkey. An official travelling with Netanyahu quoted the leader as saying that both Israel and Greece wanted to improve ties with Turkey, and that, "certainly this [visit] doesn't harm that [goal]. It can only help."
Jannis Papadimitriou sees Greece as walking a diplomatic tightrope. "Greece wants to avoid the impression that it's improving relations with Israel just as a counterbalance to Turkey," he said.
Greece to become the new Turkey?
Turkey, the only largely Muslim NATO state, had long played an intermediary role between Arab states and Israel, and the two countries shared close military and intelligence cooperation.
But Turkish-Israeli relations began deteriorating after Turkey criticized the Israel's December 2008 attack on the Gaza Strip and cancelled several planned joint maneuvers. The nations' ties took a further hit after Israel's deadly raid on a Turkish-backed, Gaza-bound aid flotilla two months ago.
Greece, which has traditionally aligned itself with Arab nations, may be poised to assume a mediatory role between Israel and the rest of the Middle East.
"Greece is ready to help the two [Israeli and Palestinian] parties come together and solve their problems," a Greek official told Reuters.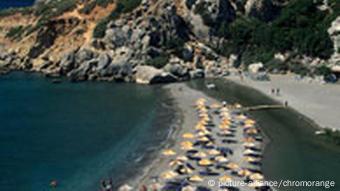 Israeli tourists now prefer Greek beaches over Turkish ones
Greece already benefiting from Israel's fallout with Turkey
Other topics on the agenda for Netanyahu's visit are tourism, Israeli investment in Greek industry and ecological projects such as water conservation.
Greece's tourism sector has already profited by Israel's fallout with Turkey, as Israeli tourists, who once flocked to Turkish resorts now prefer Greek destinations.
Israeli officials say the Jewish state may also use talks to seek closer military ties with Greece. The Israeli air force carried out military exercises in Greece in 2008 and again this year, though May's maneuvers were cut short by Athens directly after Israel's raid of aid flotillas.
There is a chance the exercises could begin again this fall, although Papadimitriou remains skeptical, pointing out that many of the 30 Greeks on the aid flotilla to Gaza claim mistreatment by Israeli forces.
"For the moment I can't imagine that Greece will open its skies for Israeli military forces unless it gets something really good in return - for example, advanced military technology from Israel," he said.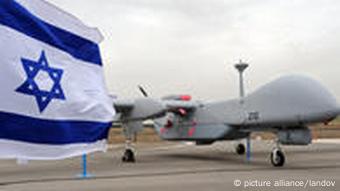 Turkey banned Israeli air force exercises
Netanyahu's visit underway amid protest
After landing in Athens, Netanyahu visited a museum dedicated to Greece's Jewish community, largely destroyed by the Holocaust.
Meanwhile, left-wing organizations in Greece called for protests against Netanyahu's visit, and a Palestinian flag was put up Sunday on the wall of the Acropolis, Athens' most famous landmark.
Author: David Levitz (AP/dpa/Reuters)
Editor: Matt Hermann