The Israeli leader took to Facebook on the 21st anniversary of Yitzhak Rabin's assassination to deny any responsibility for the latter's death. He called the killing of Rabin by Jewish extremist Yigal Amir a "shocking political murder that all of us condemn."
He wrote: "Since the murder there have been continuous attempts to distort the historical truth and blame me for the incitement that preceded the killing."
He also posted video clips showing himself condemning virulent statements against Rabin in the weeks before the prime minister was killed.
Likud opposition to Rabin's peace push
Rabin won the 1994 Nobel Peace Prize jointly with former President Shimon Peres and Palestinian leader Yasser Arafat for his role in negotiating the Oslo peace accords, which envisioned an independent Palestinian state.
But that agreement angered hard-line Israeli Jews like Amir, who is now serving a life sentence for killing the premier during a November 4, 1995 peace rally in central Tel Aviv.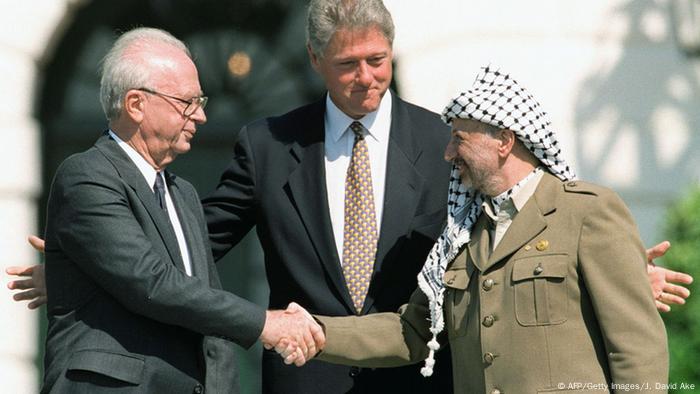 US President Bill Clinton presides over the historic handshake between Rabin and PLO leader Arafat on September 13, 1993
Peace pact angered Jewish settlers
At the time, political hard-liners had branded Rabin a traitor and some extremists called for his death.
In one notorious incident, Netanyahu, then opposition leader, addressed a protest in downtown Jerusalem where demonstrators held posters portraying Rabin in an Arab headscarf and Nazi uniform.
Likud MP David Bitan, chairman of Netanyahu's governing coalition, provoked uproar recently by claiming that Rabin's assassination was "not political."
jar/tj (AP, AFP)