The US Geological Survey confirmed the earthquake aftershock being registered at a very shallow depth of 10 kilometers (6 miles) in the northeast of Kathmandu, near the border with China. However, the damage was very likely within a radius of 50 kilometers (31 miles).
According to the witnesses, the ground rumbled as the tremor sent many people yelling and running for open ground.
At Everest base camp, Romanian climber Alex Gavan tweeted that the aftershock had set off three avalanches.
Climber Jim Davidson also felt the aftershock at Camp One on Everest.
"Just had our biggest aftershock yet here at C1 on Everest. Smaller than original quake but glacier shook and avalanches," he tweeted.
As the death toll following a devestating earthquake continues to climb, Nepal is imploring foreign countries to send aid. Hospital workers struggling to aid the injured have described scenes of pure "chaos."
Rescuers in Nepal combed desperately through rubble Sunday in a continuing search for survivors following a devastating earthquake that left more than 2,000 people dead and thousands more injured.
The toll from the quake - the worst to hit Nepal in 81 years - is predicted to rise, and Nepal has urged other countries to send aid.
"We have launched a massive rescue and rehabilitation action plan and lots needs to be done," Information and Broadcasting Minister Minendra Rijal said.
"Our country is in a moment of crisis and we will require tremendous support and aid," Rijal told Indian television.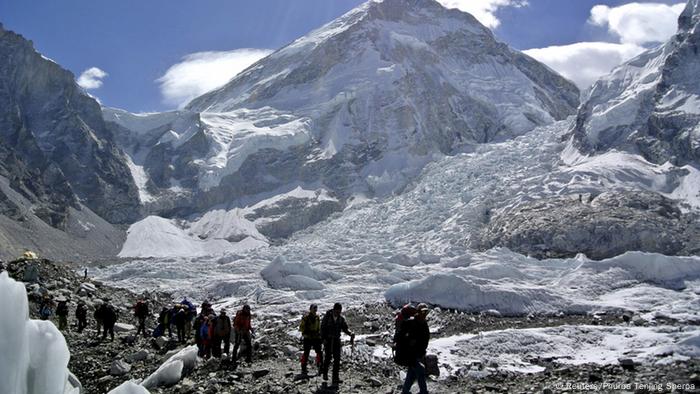 Seventeen climbers were killed after the Nepal quake triggered an avalanche on Mt. Everest
The official death toll following the 7.8 magnitude quake, which struck at 0611 UTC Saturday, has reached 2,100, the Nepal Interior Ministry said. More than 4,700 were injured in the quake, leaving hospitals throughout Nepal struggling to cope.
"It's chaos here," said Rameh Pokharel, a staff member of the Bhaktapur Hospital on the outskirts of the capital of Kathmandu. Dozens of bodies were reportedly lying on a field outside the hospital and doctors and staff were too busy to count the growing number of casualties.
Meanwhile, 18 climbers around Mount Everest were killed and a further 61 injured after being caught in an avalanche triggered by the quake.
One of those killed was Dan Fredinburg, a Google top-manager based in California. Fredinburg, 33, suffered head injuries when the avalanche hit.
Six helicopters landed at base camp in Nepal after weather conditions improved overnight to rescue victims of an avalanche.
The world responds
As Nepal continues to struggle in the quake's aftermath, international aid groups including Doctors Without Borders, Mercy Corps, Doctors of the World and the International Red Cross are sending teams respond to the disaster.
British Prime Minister David Cameron said on Twitter that Britain "will do all it can to help those caught up in [the earthquake]."
The US Embassy in Nepal announced $1 million (900,000 euros) in initial aid. Germany, Norway, Italy, France, Monaco and Mexico have also pledged support. A 62-member Chinese search and rescue team is expected to arrive in Kathmandu midday on Sunday.
Pope Francis said he was "deeply saddened" by the tragedy as the Vatican offered words of support.
"His Holiness commends the souls of the victims to the loving mercy of the Almighty and he offers encouragement to the civil authorities and emergency personnel as they continue their rescue efforts and assistance to those touched by this tragedy," Vatican Secretary of State, Cardinal Pietro Parolin, said in a statement.
Nepal, an impoverished nation of 28 million, sits at the fault between the Eurasian and Indian tectonic plates. A similar quake in 1934 killed 17,000.
jil/bw/bk (AP, Reuters, AFP)