Police usually ensure that neo-Nazis and counter-protesters keep their distance during demonstrations. Right-wing extremists, however, increasingly manage to overcome these barricades, but instead of applying force, they simply show their press badge. This card allows them to get up close with their enemies and journalists reporting on the event. Neo-Nazis videotape them and take pictures, and then threaten them.
Press card abuse has grown steadily over the past year, journalist Felix M. Steiner told DW. Steiner writes for Watchblog Publikative.org, the German public broadcaster NDR and Zeit Online's Störungsmelder, a blog on Nazi activity, among others. Steiner mainly reports on right-wing extremism.
"If a journalist reports on a right-wing extremist demonstration, it is common practice to be molested, threatened or physically attacked," he said. He has experienced that himself. The press card allows people to enter the journalists' safe space, making it easier to intimidate people.
Digital pillory for journalists
Press passes are not protected by law in Germany and just about anybody can get one.
It's also much easier to videotape or to take pictures up close from journalists and counter demonstrators. Neo-Nazis use these pictures to check up on them later: who are they, where do they live? Some journalists have later spotted themselves - including their full names and addresses - on right-wing extremist websites.
The neo-Nazi's presence in those press areas disturbs the journalists' actual work. And they don't just show up at press areas at demonstrations. They also force their way into court rooms, as Steiner has heard from colleagues. There, they effectively hinder reporting; for instance, by smearing camera lenses.
And there is another potential risk: They could try to obtain information they should not be allowed to get, for example, on certain police tactics.
That's just another stepping stone in the neo-Nazi scene's strategy of creating a "counter public" that discards professional media and instead focuses on the neo-Nazi's viewpoints. That's why they make use of blogs, social networks or regional papers free of charge.
"Then, all of the sudden, citizens inform themselves via the free NPD paper that offers a mix of regional and national topics and initially doesn't raise suspicions," Steiner said. That's why the NPD has taken root in some of Germany's regions.
Press cards for everyone?
But how do neo-Nazis get these cards? "The press card is not protected by law – and neither is the term journalist. Everyone can create a document that has the term "press card" on it - or buy it from dubious vendors," the spokesman of the German Federation of Journalists (DJV), Hendrik Zörner, said. He can't offer numbers, but confirms these cases have indeed increased.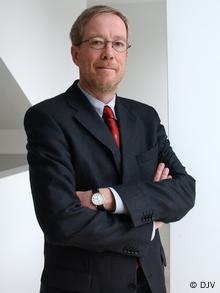 A national press card would help, says journalist Hendrik Zörner
It's not forbidden to create press cards, but usually a person with such a makeshift card doesn't get very far and shouldn't make it to the press area. But for that to happen, police or court clerks would need to be able to recognize a reputable press badge; for instance, the cards issued by DJV, the German Journalists Union (DJU) of labor union Verdi, or the Federation of German Newspaper Publishers (BDZV).
But that doesn't always work. Journalist Andrea Röpke said that it has happened before that the "real" press person was asked to leave because police thought he or she was the troublemaker - and not the neo-Nazi.
Zörner says it is not impossible for neo-Nazis to obtain a DJV card, although he hasn't heard of any concrete case where they got a DJV press badge. For such a document, the person applying for the card needs to prove that the main occupation is indeed journalism. "That's only possible through an employment agreement or payment invoices." Those documents clearly have to state the employer – "and we know all the extreme right publications," Zörner said.
In order to make it easier for people to spot legitimate press cards, DJV is lobbying for a reintroduction of a nationwide press badge. It should only be given to full-time journalists to ensure there are "no free riders anymore," Zörner said.