Moments after Jimmie Akesson, the 39-year-old leader of the populist Sweden Democrats (SD), takes the microphone in Malmo, the chants begin to ring out. "No racists on our streets!" There are cardboard banners saying "Shut up, you bloody racist, and "SD: Nazis 1988, Nazis 2018."
Read more: Sweden: Alexandra Pascalidou meets her neo-Nazi tormentor
The overwhelming majority of those who have turned out to watch Akesson speak are what he would call "helt vanligt folk," or "completely ordinary people."
The anti-fascists out today are not alone in calling the party Nazis. Sweden's Prime Minister Stefan Lofven has described the party as "a neo-fascist single-issue party" with "Nazi and racist roots." And the party's supporters admit the stigma is a problem.
"It can be difficult with some people," said "UC" Nilsson, a 16-year-old supporter who has come along with fellow pupils from his upper secondary school. "You get a very hard backlash because some people don't like the politics. But I think it's good for Sweden: we can't take so many immigrants," he told DW.
Endorsing 'cultural nationalism'
Ideologically, the Sweden Democrats party is if anything less extreme than Europe's other populists, professing a "cultural nationalism" open to everyone, no matter where they are born or the color of their skin, but at the same time calling for heavily restricted immigration. The party wants Sweden to only take refugees from Denmark, Norway and Finland, and also favors a much stricter work permit system.
Read more: Refugee influx weighs on Swedish towns
What makes it stand out is that it does in fact have roots in Sweden's neo-Nazi movement.
Even Mattias Karlsson, the party's parliamentary leader and ideological mastermind, concedes many founding members were drawn from the openly racist group Keep Sweden Swedish. "But this organization was disbanded in 1986, and SD was formed in 1988," he stressed, "so SD is not a continuation of that organization."
The party's first treasurer, Gustaf Ekstrom, was a former member of the Waffen SS, and its first leader, Anders Klarstrom, had been active in the neo-Nazi Nordic Realm Party, the Nordiska Rikspartiet.
The question is whether these origins still taint the party, despite Akesson's efforts to reform it since taking over as leader in 2005.
"We are really firm and non-compromising about these issues," Karlsson told DW. "If there's any sign of xenophobia and racism, we immediately expel those representatives."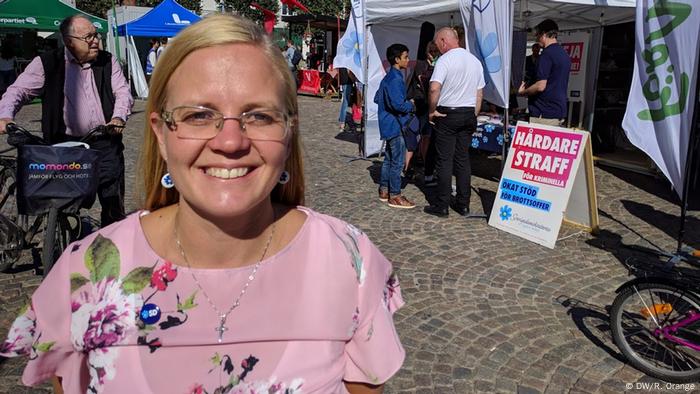 Julia Kronlid says voters are beginning to appreciate what the Sweden Democrats stand for
Julia Kronlid, the highest-ranking woman in the party's leadership, says the stigma is less prevalent than when she "came out" as a supporter a decade ago.
"In church, when my husband and I said we were joining SD, people almost choked on their coffee," she told DW. "But now they appreciate what I've done and some of them want to join the party."
But Cecilia Bladh, another educated middle-class SD politician, complains local campaigners still risk being ostracized by their employers.
"I hope that will change, because if we have one-fifth of the Swedish population [behind us], maybe even one-fourth. It can't continue like this," she told DW. "Somewhere it needs to stop."
Nazi roots haunt Sweden Democrats
Part of the reason that it hasn't is that many members clearly are still racist.
Last week, the Expressen newspaper revealed that a local SD politician had written about "the Jewish plague" on a closed Facebook group, and argued that "Hitler was not wrong about the Jews."
David Baas, the story's author, says it is normal for SD activists to post such racist comments in closed forums and on the Russian social media site VK.
"They've got two faces: On their public Facebook profiles they don't write these things, but on VK they write something very different," he told DW.
Expressen, together with the anti-extremist magazine Expo, also revealed that at least eight current SD election candidates are former members of neo-Nazi groups, with one paying membership fees to the Nordic Resistance Movement as recently as 2016.
Andreas Olofsson, who is campaigning for the Sweden Democrats in Klippan, a former paper mill town an hour from Malmo, led the local branch of the neo-Nazi National Socialist Front (NSF) in the late 1990s.
"It was a very sad time for me," Olofsson told DW. "I was young and stupid. I'm a completely different person now."
Zero tolerance on racism?
The party claims to vet all candidates, but Olofsson's past is common knowledge in the town, where it is also largely forgiven.
Jonathan Leman, the Expo researcher who worked on the investigations, said his findings were evidence that the zero-tolerance policy is "not rooted in the party."
"They spend more time telling people like you that they have this policy than reaching out to parts of the party and making sure that it is taught and lived," he told DW.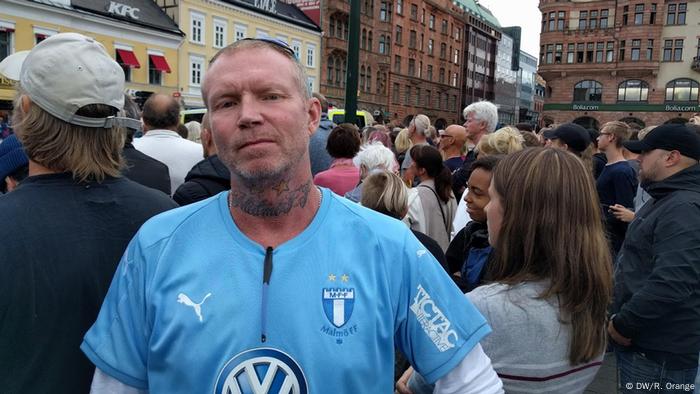 Ricky Lowenborg insists the Sweden Democrats are not Nazis
Back in Malmo, Ricky Lowenborg, an SD supporter with a faded neck tattoo and a football shirt, starts to lose patience with the chants drowning out Akesson's speech.
"Nazis?" he barks, weaving through the crowd toward the protesters. "It's the Social Democrats who are Nazis!"
Read more: How are Europe's Social Democrats faring?
A policeman fixes him with a warning stare and he retreats. "My tax money goes to those scum there," he mutters to DW as he returns. "That's why I'm pissed."
In the background, Akesson is talking about immigrants wanting "to build giant mosque complexes with huge minarets everywhere" and when Lowenborg hears that DW's correspondent is from England he begins to talk about an alt-right Islamophobic film he's seen.
"It's really bad with the Muslims over there, I hear. All the Muslims are taking over."
He checks himself. "We're not Nazis," he says firmly. "They think we're Nazis, but we absolutely are not. I'm not a racist, I hope you write that. I'm married to a Filipina. I love foreign people."
Read more: AfD in the Bundestag: Can Germany learn from Scandinavia's far-right problem?